M-Pesa aids HIV treatment in Lesotho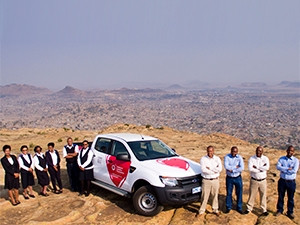 Vodacom Lesotho is using its mobile network and mobile money solutions to increase the number of HIV positive children and pregnant mothers identified and provided with treatment in the mountain kingdom.
Vodacom Lesotho board chairman Matjato Moteane says the Moyo Lesotho Project is a multimillion-dollar effort led by the different stakeholders.
"Together we aim to double the number of HIV positive children on treatment in three years and to eliminate mother to child transmission of HIV. We can achieve this by introducing several innovative mobile technologies, as well as by funding improvements in the areas of patient to health centre linkages, and the management and training of community health workers," adds Moteane.
The initiative is a collaboration between the Vodafone Foundation, Vodacom Lesotho Foundation, Lesotho Ministry of Health, the United States Agency for International Development and international private donors.
"The global health community has identified the disparity that exists between the numbers of HIV positive adults on treatment (80% in Lesotho) versus children (20%). Our funding partners asked us to see what we could do about this issue," Vodacom Lesotho told ITWeb.
Vodacom says the partnership is taking an innovative approach to the fight against the HIV pandemic by utilising mobile technology and M-Pesa mobile money to identify children and pregnant mothers, and provide them with transport to health facilities. Mobile outreach teams are also providing mother and baby health services and referring children with HIV to much-needed care.
"Our partners are mobilising communities to reach children and adults in Leribe and Maseru districts. The aim is very simple: to find more HIV positive children in the next three years than we have in the last 10."
Patient health data is being captured at the point of contact through a mobile app created by the Vodacom Foundation. The data is then automatically aggregated and uploaded onto a database which allows for real-time fine-tuning of the program to better provide for the patients.
"Mobile technology is connecting all the elements and bringing much-needed management and data. In addition to the use of M-Pesa to provide transport from rural villages to clinics for treatment, the health workers are able to connect patients to clinics, issue reminders and track patients across the system," says Vodacom Lesotho.
Because the data generated is 'real-time' the management team can identify problems and focus or change priorities if needed. Vodacom says this brings accountability. To date, little accurate data has existed, but now the telecoms operator will generate data in real-time.
Activating mobile money
Vodacom says the use of M-Pesa for the project will eliminate the transportation barrier to getting children and pregnant women onto HIV treatment by issuing transport vouchers via the mobile money platform.
"M-Pesa allows for immediate transfers of funds to the women and children in need of getting to the clinic for further follow up and lab tests. To further improve access to HIV care and treatment, the government of Lesotho had made medication and healthcare around HIV free of charge in Lesotho ? so this programme removes one more barrier of transport," explains Vodacom Lesotho.
Vodacom says M-Pesa continues to grow strongly in all of its markets. In Lesotho, the mobile money service has 650 000 registered customers. The company added 1.2 million M-Pesa customers across Africa during the six months to 30 September 2015, bringing the total number of active customers to 9.2 million.
The Vodafone Foundation and Vodacom Foundation are already collaborating in Tanzania on other similar mother and child programmes, to help save lives via mobile technology and transport. Vodacom says the Lesotho model can be used in other markets and it plans to have more info about expansions over the next 12 months.
Vodacom has been operating in Lesotho for 20 years and has 1.2 million customers in the mountain kingdom. Vodacom has 65.2 million active customers across Africa, with 34.1 million of those in SA.
The Vodacom Lesotho Foundation is part of Vodafone's global network of 27 foundations. The foundation also supports initiatives in education and entrepreneurship development in Lesotho through its other key initiatives, iSchool Lesotho and the Vodacom Innovation Park.