Mxit's smartphone challenge
Africa's largest social network shifts its focus in an effort to grow and retain its user base, in the face of steep competition.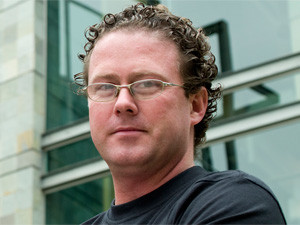 As smartphone penetration continues to rise, locally developed mobile social network, Mxit, is redefining itself in an effort to remain relevant and carve a place in an already saturated social networking market.
Mxit's VP of growth and product strategy, Vincent Maher, says: "We're in the process of reinventing ourselves. Changing our brand, the way it looks and feels. We want to say to users, 'we're still here'. Mxit has been around for ages now, and our biggest challenge is figuring out how to stay in people's minds as an innovative product, rather than one they may have used five years ago."
According to Maher, Mxit's current user base of 7.5 million monthly active users consists of 85% feature phones, but the shift towards smartphones is happening rapidly. As a result, one of the mobile social network's key concerns is the retention of users as they step up to using smartphones.
"It's about saying we're still relevant as you move because you have a big social graph within the Mxit ecosystem already and you don't want to get rid of that. We also don't want them to feel like the Mxit user experience is holding them back from fully enjoying their new device - it's about creating that sense of delight around things working smoothly. As they get a better device, we enable them to get a better experience."
Maher says given Mxit's traditionally large feature phone user base, there has been a tendency to focus almost exclusively on those devices. But things are changing: "The focus on the user experience is now starting to come to the fore as the culture in the company changes and we start to focus around smartphones. Feature phones are quite limited in terms of what you can do from a design perspective and it's quite frustrating for designers and programmers to work in that environment."
Flagship experience
In January, Mxit launched a new version of the service for Android (Mxit 6.4), in an effort to bring the platform on par with competing services available on smartphones. Maher says Android has been identified as the platform Mxit users are mostly likely to transition to when moving up from their feature phones, and has therefore become the flagship platform for the service.
"We started by having something on Android that was similar to our feature phone experience. With this 6.4 release what we've done is basically address how to make it feel more connected and native to the OS, and integrate more with the kinds of services the OS has."
The focus on the user experience is now starting to come to the fore as the culture in the company changes and as we start to focus around smartphones.
Cost is also a big concern for Mxit users: "We've put a lot of energy into just reducing the amount of data that gets moved between the device and our service." So far, Maher says there are about 170 000 people using Mxit for Android. "We've transitioned about 30 000 users to the new version and that figure is growing by a couple thousand a day."
While Mxit has an iPhone client, Maher says: "The iPhone app is where our Android app was before we reworked it. So we're going to have to double-back on it. We've already started to plan and build Mxit 7. We're no longer trying to have the identical experience across all device platforms. We want to optimise for each platform rather than just be generic."
Maher adds that in the feature phone world, there is a need to offer a broader, more general user experience. "On those devices, the user is inevitably either using the dialler, SMS, Opera Mini or Mxit. On a smartphone, however, you have a separate app for each and every different use case. So we really need to find our place there."
Community building
Mxit has also grown and morphed over the years to become more of a fully-fledged eco-system rather than a cheap alternative to SMS. "It used to be a fairly single purpose application but over the years, starting around Mxit 5 and Mxit 6, it became a broader, more all-encompassing space where people spend more of their time," says Maher.
"If you look at the feature phone market, the OS and device itself is quite featureless in many ways so what Mxit would do is give its users a place to surf the Internet, to chat and do other activities without having to break out and go to all of these other separate applications," says Maher, adding that Mxit has become a lot more community focused.
"That thinking also comes from Motribe which was fundamentally about community. People like to be among people they feel are similar to themselves because it creates a safe environment."
A key element of the community focus has been the rollout of a browser-based toolset for Mxit, which allows community managers to create and manage apps for the Mxit platform. "It uses our apps platform to help people to build apps in the same way they would build Facebook pages or manage their Twitter accounts. It's essentially a set of community management tools that allow them to publish, to send messages to their group and it solves a couple of problems too.
According to Maher, certain brands such as SuperSport and Electronic Arts have larger fan bases on Mxit than they do on other platforms such as Facebook and Twitter.
"We've got a pretty engaged base. Our concurrent users at the moment is about 800 000 in the evenings, so it's a massive fire hose in audience terms."
The majority of Mxit users are in SA, but the key growth areas for the service include Nigeria, Ghana, Zimbabwe and Tanzania. "Just in the last few days we've added a quarter of a million Nigerian users alone."
While there has been a perception that Mxit's local user base has been on the decline, Maher says over the last year-and-a-half, the user base has been "stable". "What we have seen though is that in the last month-and-a-half it's actually starting to grow again."
Social coexistence
In light of strong competition from other mobile social platforms, Maher says: "Obviously we've got big challenges ahead of us. When we talk to our base about what social networks they use, we find they use a number of social networks in parallel. For example, BBM users on BlackBerry will keep Mxit to talk to their friends that aren't on BBM.
"The one social platform that we find that our users use pretty much to the same extent as Mxit, is Facebook. They use the two interchangeably. The thing that we're working on at the moment is how to coexist peacefully with other social networks because it's not really a case of 'one or the other'."
Our concurrent users at the moment is about 800 000 in the evenings, so it's a massive fire hose in audience terms.
Maher explains: "On Facebook you tend to connect with people you already know, but on Mxit you tend to be connecting with people you don't know and meeting new people. It's the whole serendipity around people discovery, and that's the direction we've been going in for quite a while.
"The fact that you can be relatively anonymous on Mxit means there are all sorts of opportunities for experimenting with your identity and social position. Historically, Mxit has predominantly had a teen user base, and that base has grown up a bit. Our biggest demographic is between the ages of 18 and 25. But they're still interested in role play and slightly more experimental social behaviour. On Mxit, people don't have to feel constrained by the weight of their actual identity, which in a lot of cases can feel quite oppressive."
Maher notes that child safety continues to be a focus. "We're making good headway in terms of educating both children and parents. We have a really neat feature where if anyone sees anything untoward in a chat room, they can type '.rat' and that immediately sends a transcript of the conversation to the support team. About 5 000 to 6 000 of those requests are managed per week. It's important to have the users feel we have a physical presence in the network."
Finding the sweet spot
Maher says Mxit is continuing to experiment in the m-commerce space. "We've got our micro currency Moola, and as part of our platform development work that we're doing around APIs, we're also releasing billing APIs. What we're finding is that people aren't averse to spending small amounts of money to consume content."
Mxit is also working on its real-world m-commerce offering, Mxit Money, which was launched last year. "We're looking at ways to bring that into the actual Mxit experience where users can use real money to interact without having to purchase a micro-currency. It's still experimental and we're still looking at where the 'sweet spot' for that service will be.
"The main is that we're just trying to find new ways for our users to engage with each other and with things in the real-world. For example, experiments like integrating retail coupons. This opens a massive opportunity for the app developers - instead of rewarding people with moola or unlocks, we can transition from digital world to the real world - getting discounts on real, practical things."
Mxit also recently launched its preferred developer program (PDP), following the launch of its APIs in April last year. "It's a sign of the maturity of our apps platform," says Maher, adding that there are already a number of apps on Mxit that are notching up over 20 million page views per month, and monetising successfully. The eight charter members of the Mxit PDP are Bazooka Games, Cytrus, Deloitte Digital RSA, Harsi Games, INESSOFT, Kazazoom, NATIVE and Springfisher.
Local pride
Looking ahead, Maher says the main focus is growth and user engagement. "We want to become more localised in many ways. We want to service African and emerging markets by offering a service that crosses the boundaries between social networking, browsing and financial services.
"We're also focused on getting the commercial side of the business fully operational and understanding the role that advertising is going to play versus the role of micro-transactions in our overall revenue line. We have to be realistic about that because there isn't going to be one single revenue stream funding the business."
Maher believes Mxit 6.4 for Android has brought the service on par with competing smartphone services: "But we're also more African. We're more vibrant and the experience is more native. A lot of it comes down to how we curate the chat environment too - providing an experience aligned with what users are interested in.
"I think we need to be more proud of the fact that South Africans have built a social network that's still bigger than Facebook on mobile locally. We have stood the test of time, and we need to get more excitement around what South Africans are doing on their own platforms."