Number of SA Internet users ticks up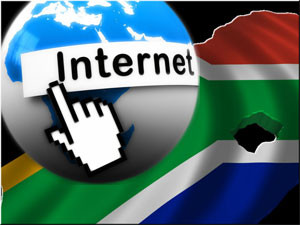 Despite the public outcry over the high cost of data, more South Africans connected to the Internet over the past year using various means, especially cellphones.
Data from the latest Statistics SA (Stats SA) report shows that 59.3% of South African households had at least one member who used the Internet either at home, their place of work or study, or at Internet caf'es.
Stats SA's latest 'General Household Survey' report was released yesterday and reveals an increase in the number of households that connected to the Internet when compared to the previous figure of 53.3%.
The survey was conducted from January to December 2016, and is aimed at determining the progress of development in the country.
It found that using any means available to access the Internet was highest in Gauteng with 72.2%; the Western Cape was second with 68.5% and Mpumalanga third with 58.1%. Household Internet access was lowest in Limpopo (42.4%) and the Eastern Cape (49.2%).
"Nearly one-tenth of South African households had access to the Internet at home. Access was highest among households in the Western Cape (23.6%) and Gauteng (14.8%), and lowest in Limpopo (1.6%) and North West (3.5%)."
The report also highlights that households were generally most likely to have access to the Internet at work - rather than at home, at Internet caf'es or educational institutions.
Driving mobile access
With South Africa's mobile penetration rates above 100%, citizens are capitalising on the multiple functions provided by new-age mobile devices.
As noted in the report, the use of mobile devices to access the Internet comprises access on cellular telephones or using mobile access devices such as 3G cards.
Mobile access to the Internet has made it much more accessible to households in rural areas, it reads.
"Nationally, Internet access using mobile devices (53.9%) was much more common than access at home (9.5%), at work (15.8%) and elsewhere (9.8%)."
The Stats SA report also indicates that the use of mobile Internet access devices in rural areas still lags its use in metros and urban areas, but it is much more common in rural areas than any of the alternative methods.
Meanwhile, use of landline phones continues to wane; 87% of households had access to at least one cellular phone, while 9.4% of households had access to both a landline and a cellular phone, it reveals.
"Only 0.1% of households had only a landline. However, access to these means of communication differed by province."
Households in historically rural provinces such as Mpumalanga and Limpopo were very reliant on the more accessible cellular telephones than landlines.
Nationally, only 3.5% of households did not have access to either landlines or cellular phones in 2016, according to survey data.