Autonomous cars by 2021, claims Ford
Ford intends to produce high-volume fully-autonomous vehicles by 2021.
According to Mark Fields, president and CEO of Ford Motor Company, the next decade will be defined by the automation of vehicles and it's likely to have as big an impact on society as Ford's moving assembly line did 100 years ago.
Ford's claims are bolstered by a report from research firm Berg Insight, which predicts the first autonomous cars will debut in 2020.
The firm says new registrations of autonomous cars will have grown at a compound annual growth rate of 62% from 0.2 million units in 2020 to reach 24 million units 10 years later.
Berg Insight points out autonomous cars are not a single innovation but rather a continuum of various levels of autonomy where the amount of driver involvement is the main differentiating factor.
It says at the moment, there are two types of companies working on self-driving cars: traditional automotive companies and tech giants. The firm says most automotive companies are pursuing an incremental approach, with step-by-step roll out of autonomous systems, while start-ups and IT companies such as Google and Apple aim to develop fully autonomous cars from scratch.
"These pathways do not contradict each other, as different autonomous systems are suitable in different use cases. We will continue to see development from both sides for still some years before the two approaches converge," says Ludvig Barrehag, M2M/IOT analyst at Berg Insight.
Already in use
Ford is taking the step-by-step approach and has already incorporated some of the technology it will use in mainstream autonomous cars, into its current line-up.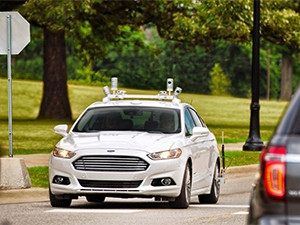 Features such as adaptive cruise control to manage speed by sensing the vehicles ahead, active park assist, lane-keep assist to keep drivers from drifting across lanes, as well as pre-collision assist with head-up display which detects a potential collision and automatically applies the brakes if the driver does not respond to warnings.
The company says systems like this are the building blocks of its fully autonomous car.
Start-up creativity
Ford is collaborating with four start-ups to leverage the latest technology in autonomous mobility. It has also doubled its team working on the self-driving car in Silicon Valley.
One of the companies Ford has invested in is light sensor manufacturer Velodyne. It produces light detection and ranging sensors, which uses ultraviolet and near infrared light to 'map' objects in detail. These sensors will be used in the cars to 'see' what is ahead and prevent collisions.
Ford has also acquired SAIPS, a computer vision and machine learning company. It specialises in algorithms that enable machines to learn through visual and signal processing as well as classification. Autonomous cars with this technology will be able to 'learn' new signs, patterns and driving habits without the need to reprogram or update.
The manufacturer has signed an exclusive licence agreement with Nirenberg Nueroscience, to access to the most advanced research in how visual information is transmitted to the brain. This information combined with SAIPS technology will create: "An-all-encompassing platform that allows autonomous cars to function completely on their own," says Ford.
Civil Maps, which has developed a new 3D mapping technique, will be used in Ford's future cars. The technology is scalable and more efficient than current processes, and will allow Ford to develop high-resolution maps with all the data needed for self-driving cars to navigate on their own, it says.
Advantages abound
Berg Insight says the advent of autonomous cars is expected to have a tremendous impact on society in several ways.
Firstly, the report says, cars are among the most costly as well as inefficiently used assets of today.
"When cars can operate around the clock on a service-based business model it results in a tremendous increase of their utilisation rate," states the report.
"Furthermore, autonomous cars will improve life quality for people unable to drive, reduce the number of fatalities and accidents in road traffic and increase overall traffic efficiency."
Ford claims autonomous cars are an "undeniable part of our not-too-distant future". However, the company concedes it won't happen overnight and not all countries will embrace self-drive in the same way, but says it is inevitable.