Review: Nike+ SportWatch GPS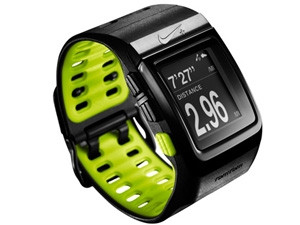 The Nike+ SportWatch is a GPS-enabled device made in collaboration with TomTom. It keeps track of a variety of stats, including distance run, calories burnt, speed and time, and has the functionality to work with a heart-rate monitor.
Activities are recorded and uploaded to nikeplus.com, which has an engaging interface, allowing users to view the details of their activities. With its sleek appearance and Nike branding, the watch is likely to have broad appeal.
Look and feel
When I first strapped it on, the watch felt unusually heavy, which is unsurprising given that, at 66g, it weighs 14g more than the Garmin Forerunner 110 I currently use. Although I expected this extra weight to feel strange on the run, I didn't notice it at all.
The strap is secure and nicely adjustable, and didn't pinch at all, which is a problem I usually have with rubber straps. The display is huge and clear, with large white numbers on a black background, making its contents easy to see and process at a glance. The colours are reversible, for those who prefer black on white.
It took me a short while to get used to the buttons being on the left side of the screen - I kept putting the watch on upside-down. Once I stopped doing this, I realised the positioning of the buttons makes sense, making all the controls for the watch easily accessible with just a thumb, whichever arm it's worn on.
Software and set-up
The watch has a USB connector built into the strap, as well as a longer cable, which attaches to the strap for harder-to-reach USB ports. This cable did not work at all with the device I used, but the connector on the strap worked reliably.
The software is both intuitive and sleek. User settings such as height, weight and metric/imperial units can be changed, which avoids a lot of bumbling around with clumsy buttons trying to set this all up on the watch itself. It also allows users to disable the annoying default beeps.
Uploading runs was trouble-free, and it was easy to explore my activities using the graphs and statistics provided online. Integration with social media was seamless. Although I wouldn't see myself using the social features of Nike+, participation in a fitness community and the opportunity to motivate oneself with points are certainly a good idea. The run reminders and encouragement provided by the watch are likely to appeal to those who struggle with motivation.
On the run
Now, on to the usefulness of the watch on a run. Starting a run is intuitive and easy, which (surprisingly) is not universal among sports watches. The display, as mentioned, is easily visible, and I had no problem seeing my stat.
Yes, stat. Singular.
This is my major criticism of the Nike+ SportWatch: the fact that the screen displays only one main statistic at a time. It is possible to choose which figure you would prefer to have displayed, but all other stats are relegated to the top left-hand corner of the display. With the software, users can choose which stats will display here, and opt to scroll through them automatically or manually.
I'm not a fan of auto-scroll, because it gives me little control over what I see when I look at the watch, but the alternative is to have only one number displaying by default, and fiddling with the watch to look for the rest. I chose "distance" as my main stat, and "time" as the first in the list of other stats set to manual scroll. With only these two numbers available, I had to choose between breaking stride for uncomfortably long periods of time to scroll through the other stats, or try to perform mental arithmetic while concentrating on my form and pace.
While this might not annoy some people, I found it very frustrating. I prefer to be able to look down and see at least time, distance and pace or speed displayed, without having to fiddle with buttons in the middle of my run. On the bright side, users can choose from a very wide range of stats, including average pace and instant pace, laps, intervals and heart rate.
While it's great to have the software interface as an option to change settings easily, it's also less than ideal not to be able to adjust on the fly. In some cases, it might be best to have one metric (eg time) display as the main stat during a warm-up, and another (eg distance) during the race or training session.
The watch is relatively responsive to changes in pace, but seemed to be slightly inaccurate: during a walk, it consistently showed my pace as wavering between 10:03 and 13:39 minutes per kilometre, but my time for a one kilometre lap was 9:57, lower than even the lowest pace that had displayed.
The feature for timing each lap separately is well designed, yielding useful data on splits, which can be reviewed later. The battery life is also commendable: over a two-week period, I did not have to charge the watch once, although my runs during this period were short. Scrolling through history on the watch is easy and it has a large memory, storing up to eight hours' of runs. Once the memory is full, it deletes the oldest runs automatically, so for lazy uploaders, some runs could be lost.
Not having Nike shoes, I was unable to use the shoe pod, which slots into a Nike+ ready shoe to act as a pedometer and record indoor runs or compensate for poor GPS signal. This is undoubtedly a feature that runners who spend a lot of time on treadmills will love.
In a nutshell
Overall, the watch looks sleek, feels good and provides a well-designed software interface and online community. It's user-friendly and has a few good features, and is likely to be a good option for many beginners. With the limitations in the display of statistics, however, it might not fit all the requirements of a more serious or competitive runner.