Tailored tech to make African impact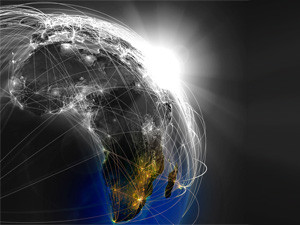 An increasing number of technology ventures across Africa are taking into account different contextual realities before trying to make their mark - a stark contrast from the one-size-fits-all approaches adopted by some multinational corporations in the past.
This is according to the International Data Corporation, which recently outlined its forecast for technology trends across the continent for 2015. Lise Hagen, research manager for software and IT services at IDC, says observations point to an increasing tendency for ICT investments to try and address market realities specific to Africa.
"We see ICT making a strong contribution towards GDP growth and - in countries like Kenya, Nigeria and Rwanda - there are clear patterns of spending aiming to address their local contexts. In those cases, the telcos and government verticals are benefiting from higher investments," she says.
According to the research firm, transformations in African technology will be influenced by key factors, including mobility, big data, social business and cloud. Meanwhile, progress made by different markets in addressing unique challenges will drive innovation.
Inclusion in Africa
Part of the push to address specific realities, according to the IDC, is entities' tailoring solutions to ensure inclusiveness of the range of devices operating in different markets, including older feature phones.
Roan Murray, CEO of mobile payments company Switching House, says solutions that have an eye on inclusiveness are likely to succeed in many African contexts. "It must be accessible for a broad base of consumer, specifically when looking at the mobile telephony and payment space.
"The greatest success stories in this industry are clearly identifiable because they brought access to millions of previously excluded people, and at the same time, provided access to products and services that people need to use on a very regular basis." He notes technology initiatives that are solution-driven and focus on customisation as well as simplicity are likely to have great impact.
George Kalebaila, IDC senior research manager for telecoms and media, says while SA's smartphone penetration is around 30%, it can take a leaf out of other African countries' books, which use strategies to better improve mobile experiences on feature phones.
Top predictions for Africa
1. ICT investments addressing African market realities will also fuel GDP growth in key African countries
ICT growth will be a strong driver of economic growth in countries such as Kenya, Nigeria and Rwanda, with mobile services penetration, financial inclusiveness initiatives and government service delivery playing a key role. According to the IDC, the telecommunications, financial services and government verticals will greatly benefit.
2. Governments with relevant, effective national ICT policies will begin to dominate the economic landscape
Increased government policies and relevant processes that favour ICT activities in society will have a significant impact in countries such as Nigeria, Kenya, Rwanda, and Egypt. In these countries, policies will increase ICT awareness and access device penetration, improve service platforms and boost 2015 infrastructure developments. Hagen says SA lags in this respect, as it lacks clear policies and strong leadership to drive its imperatives.
3. 2015 heralds the battle for the SME market in more developed African markets
While a variety of ICT providers have made concerted efforts to tap into the small and medium enterprise (SME) market in recent years, 2015 heralds the open battle for the SME market, where telcos will be strongly positioned to leverage their existing relationships with this segment.
4. Security concerns will remain, as mobile devices, data and access methods increase
The IDC says Africa's 2015 trade is firmly entrenched within the context of the global economy. Governments will slowly but surely address cyber security legislation and education, and consider further country-specific data protection that will require in-country presence for multinational ICT providers.
5. External socio-economic agendas will boost ICT usage, but will face strong resistance without due localisation
International entities such as World Bank, World Health Organisation, USAID, and the United Nations want a better understanding of market dynamics, competitiveness, and productivity in countries in which they invest. Their investments will continue to influence guidelines for ICT solutions and use, as will multinational corporations (MNCs) considering foreign direct investment, Brazil, Russia, India, China and SA trade, and increasing South-South trade.
6. 2015 heralds the next level of African IT procurement - new clients, new products, new markets
The African market is characterised by new markets, products and clients, sought after by MNCs and African organisations alike driving innovation and entrepreneurship through cloud, the social enterprise, enterprise mobility, and big data as new product sets.
7. Technology will help breach intra-Africa trade barriers by removing obstacles, increasing efficiency and encouraging transparency
IDC anticipates that 2015 will see closer intra-Africa trade facilitated by ICT initiatives such as payment systems, financial inclusion initiatives, and cross-border payments.
8. Digital engagement that encompasses integration of mobility benefits with those offered by cloud, big data and social networking will be the key to capturing market share in Africa
Digital engagement will combine social, mobile, and big data initiatives, enabled by a cloud-based approach, and move Africa's mobility momentum into the value-add space.
9. Bifurcation will characterise mobility initiatives as smartphones outpace feature phones
African smartphone adoption will continue to be a high growth area for 2015, but feature phones - far from dead - will stimulate development that will centre on capturing the feature phone long tail by improving the customer experience.
10. New cloud model emerging: 2015 is the year when the technology discussion falls away in favour of the business discussion
Next year will see cloud proving its worth, not just as old wine in new skin, but rather as a business driver. The IDC says Nigeria and Kenya will catch up to more mature regions, as the time to market cycles in these regions diminish exponentially.