The melody of code: a Cape Town musician's inspirational journey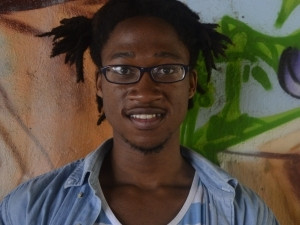 Born and raised in Cape Town's Gugulethu township, the musician "OhGooch" - also known as Owethu Okuhle Mtya - has combined his love of music and science to inspire South Africa's youth.
"When I first learned about Scratch, the MIT easy-to-learn visual programming language used in SAP's Africa Code Week, I immediately saw how similar it was to the music I create. In both cases, you are creating your own world with its own rules. There are no limits to what you can create, and you are bound only by your imagination."
OhGooch performs an experimental sound he calls 'Digital Hippy'. "I grew up listening to the sounds of the township, which eventually led me to "kapping". This is where you make a drum groove with your hands by repetitively knocking your hands on a hard surface to simulate drum patterns. I became good at it and soon after joined the choir and flute class at my primary school. I discovered that I have a talent for hearing the sounds around me so deeply, that I can hear the emotions behind them. This eventually led me to enrol in a sound engineering course after I graduated from high school."
OhGooch is now a qualified sound engineer, singer, producer and musician. He is also deeply passionate about science and education. "For as long as I can remember, I was part of the Cape Town Science Centre family. My aunt Busi worked there since I was 10 years old and would take me with her on weekends and after school. I would wander off and explore all the exhibits; I got to know the centre so well that I started helping visitors find their way around the place. By the time I was 13, I had become the youngest volunteer at the Cape Town Science Centre."
His interest in coding started after watching 'The Matrix' for the first time. "I was seven years old and the green numbers on the screens in the movie fascinated me. Someone at the time told me that is coding, but I didn't have access to computers, so my interest lay dormant until I was invited to be part of Africa Code Week in 2015."
Africa Code Week is a continent-wide initiative aimed at sparking the interest of African children, teenagers and young adults in software coding. Spearheaded by SAP in 2015 as part of its social investments to drive sustainable growth in Africa, Africa Code Week (ACW) is the story of hundreds of schools, teachers, ministers, community centres, code clubs, NGOs, businesses and non-profits getting together to give birth to the largest digital literacy initiative ever organised on the African continent.
In October this year, thousands of coding activities were organised across 30 countries and online. The aim was to train 150 000 youth from three different age groups (8-11; 12-17; 18-24) all over Africa. The more ambitious long-term goal is to empower more than 200 000 teachers and positively impacting the lives of 5 million children and youth within the next 10 years.
After the Cape Town Science Centre, which is one of the strategic partners to Africa Code Week, invited him to be part of the initiative, he realised the potential of coding. "I was immediately inspired by all the possibilities of coding. Seeing how the faces of the kids I trained lit up as they learned to do basic coding was truly inspirational. Some would not have any experience working with a computer but, by the time their parents returned to fetch them, they had learned so much and couldn't stop telling mom and dad about all the knowledge they've gained!"
OhGooch has trained more than 1 500 students over two years as part of his work for Africa Code Week. "About 400 of those students had never worked on a computer before. The fact that they left our training, not only knowing how to use a computer, but also as Level 1 Scratch Coders, is amazing and inspiring to me. In the township, many of the kids' role models are gangsters. Introducing them to coding at a young age shows them a different perspective and helps them to visualise a better future. At some of the schools I visited during Africa Code Week, the teachers would warn me about certain students that may misbehave in class. But those same students ended up being the ones who paid the most attention and seemed the most interested in class. This just showed me how coding can open the minds of youngsters to aspire to achieve more than they have dreamed of."
He was also offered the opportunity by Africa Code Week to contribute his music to this year's initiative. "I joined SAP, who created the initiative, on a Train-The-Trainers event to Botswana last year. After the training sessions, we visited the country's salt pans, and I was struck by their beauty and mystery. My lyrics are always about challenging yourself to progress mentally, physically and spiritually. I believe that, once you apply this in your life, you will get closer to where you want to be: the point where you feel like you're flying. Ultimately the universe will guide you to where you need to go, you just need to listen to the signs and keep moving forward."
For more information, visit the SAP News Center. Follow SAP on Twitter at @sapnews.