Cloud key for the strategic CIO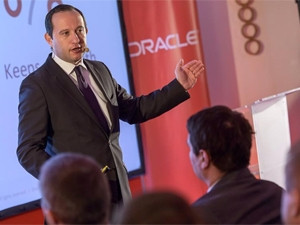 CIOs are poised to take strategic control of organisations, and cloud is their weapon of choice.
Kevin Attard, Oracle SA's new country manager, plans to transform its customer's IT into something faster, more responsive, and more strategic. Oracle's annual CIO Summit, now in its second year, will take place on 12 May in Johannesburg.
Attard is a long-time Oracle executive who until recently headed up the company's application solutions business for a huge territory, including Africa, Middle East, Eastern Europe, and Russia. Above all, he is a cloud specialist, and his appointment to head up this territory speaks volumes about the company's expectations. Oracle, Attard says, is going all out on cloud, and expecting its customers to do the same.
"We talk to business because they want a business solution; today they are after speed. They need speed to market, and they do not want IT to slow them down. Cloud is an enabler to do that, but it's just how you deploy applications. For example, it's a de facto that if you want to be fast in reacting from a social perspective, from a customer intimacy perspective, you need to be in the cloud. If you're still running your customer experience - sales, marketing, social - the traditional way, you are lagging behind."
Business strategy, he believes, will inevitably drive the journey to the cloud. And that requires a core strategic shift. "IT should be sitting at the top of the board with a strategic point of view, not on how to run IT systems, but how IT is enabling the business."
And while South African CIOs often feel the region is suffering, with poor infrastructure, skills shortages and a depressed economy, Attard is emphatic this is not the case. "Our plans for South Africa are no different from our plans for the whole region. This is important: South Africa is not lagging. I don't see a difference between SA and EMEA. Of course there are local macro challenges, as there are anywhere. If you take any industry: telco, airline, mining ... their fundamental business is the same as a similar business anywhere else in the world, based on the same international best practices and following the same trends."
'Cloud will be pass'e'
Eventually, "cloud" as a concept will be pass'e, Attard says. All workloads will be architected with cloud technology in mind, with the only questions being where they are deployed.
"When we are having a business discussion, we should not be talking about the cloud. We should be talking about customer experience. To get to that level, the term 'cloud' should not even be part of the discussion. It should just be a deployment method, and nothing more. Digital is an umbrella, not a solution. And the components are simple: cloud, big data, mobile, and social. These are the digital disruptors that businesses must embrace."
The era of shadow IT, with business users circumventing IT departments to self-provision unmanaged cloud services, was a dark time for the industry, Attard notes, highlighting the inability of IT to innovate fast enough for business.
"IT is becoming more business-oriented, and less operational. IT is elevating business users towards the cloud - that has matured. IT learned that lesson, and the business users have also learned that siloed shadow IT leads to problems too. Now they both at the same level.
"IT should not be seen as a cost department, an operational department, or an inhibitor. The CIO should have a strategic view, not on how to run IT systems, but how IT is enabling the entire business."
For SA, we're avant garde in the cloud. There is a lot of education and enablement still to be done. But in South Africa that means we have an opportunity to get it right. The cloud has matured and evolved, a lot of mistakes have been made - we can learn from that and get it right."
That will only happen if CIOs share their experiences, he adds.
"This is why we're hosting the CIO Summit. It's a place for CIOs to socialise, to network, to discuss best practices. As a vendor, we don't like fighting fires - we'd rather the discussion starts with that clear strategic view."
Oracle's annual CIO Summit takes place on 12 May 2015 at Summer Place, Sandton. The theme this year is all about the leadership edge in Digital Transformation. A recent Harvard Business Review survey showed that the CIO is the best candidate to lead digital transformation inside a company. Join an exclusive CIO peer roundtable - part of Oracle's new CIO Community - to flesh out the skills needed to drive this transformation.
To register or for more information click here.