Qualcomm makes virtual reality play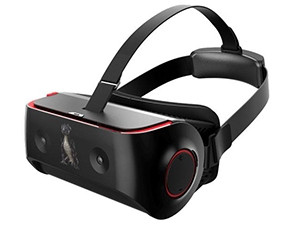 Qualcomm used Europe's largest consumer electronics show, IFA 2016, this week in Berlin, to show off what its new virtual reality (VR) software development kit can do.
The company designed a VR headset, with a Qualcomm Snapdragon 820 chipset inside, to be used as a reference design for other manufacturers that have yet to release a headset.
Qualcomm provides chipsets for a myriad of Android smartphones and is branching out into emerging technologies. Last year, the company introduced a chipset specifically for drones.
The Qualcomm VR820 headset features two cameras on the front that detects the shape of the room around the wearer, without the need for wall-mounted sensors, like the HTC Vive.
It has a battery on board along with the processor and 4K display, and does not need to be connected to a smartphone or computer to work, like the Oculus.
This is similar to computer chip manufacturer Intel's Project Alloy announced last month, which is also an all-in-one VR headset. However, Project Alloy will only be offered to developers as an open platform in 2017, whereas Qualcomm will be available to developers within the next two months, and in devices shortly after.
The VR820 is also differentiated from Intel's rendition because it features integrated eye-tracking. This means the device will only render in HD what the wearer of the headset is looking at. The rest of the 'unlooked' at space 'around' the wearer will be low-quality until looked at.
Qualcomm says people are moving away from traditional media consumption like television and want more immersive experiences.
"With powerful processing capabilities supported by products like the Snapdragon VR820, VR is becoming a viable option ? and a step up ? from the experimental smartphone and computer VR experiences of the past," the company said in a statement.
In June, TrendForce predicted VR device shipments will reach nine million units this year.
Strategy Analytics expects global VR headset revenue to reach $895 million in 2016, with 77% of that value accounted for by newly introduced premium devices from Oculus, HTC and Sony.