Huawei announces expanded alliance with SAP and launches FusionCube solution for SAP Hana at CeBIT 2014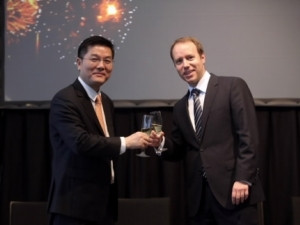 Huawei, a leading information and communications technology (ICT) solutions provider, announced at CeBIT 2014 that it has expanded its alliance with SAP, deepening its relationship through large-scale collaborations planned across multiple offerings and practices.
Building on the foundation of collaboration, Huawei has launched the Huawei FusionCube solution for SAP Hana to enhance its support for the in-memory computing platform. In addition, Huawei has also announced plans for further collaboration with SAP on "smart city" and bring your own device (BYOD) solutions.
"Huawei is delighted to deepen its partnership with SAP, the world leader in enterprise applications and fastest-growing database provider. Through complementing each other's strengths, we hope to bring our relationship to a whole new level," said William Xu, Chief Strategy Marketing Officer of Huawei.
"The ICT industry has been facing unprecedented challenges and opportunities, enabling ICT infrastructure to gradually become a core focus of enterprises. Moving forward, Huawei will emphasise its strategy to integrate with the industry ecosystem and to continue to focus on the 'pipe' segment of Huawei's overall 'cloud, pipe and device strategy'. Through open collaboration with our strategic partners, we will continue to provide leading innovative and differentiated products and solutions, working to achieve our goal to become an optimal partner for ICT innovation."
"Huawei's in-depth experience with ICT infrastructure has complemented SAP's strengths in platform and enterprise software solutions, and has further enhanced the benefits that the SAP Hana platform provides to enterprise customers," said Alex Atzberger, chief of staff, SAP. "Going forward, we believe the partnership will create more technical synergies, helping lead to enterprise solutions that will bring even more value to enterprise customers in China, Europe, and emerging markets."
SAP Hana is the market-leading in-memory computing platform that can be deployed either as an appliance or in the cloud, and is ideally suited to run real-time analytics and applications. Huawei's ongoing commitment to innovate for optimal use of the SAP Hana platform has led to the FusionCube solution, the newest converged infrastructure solution from Huawei, which provides a scale-out solution to extend the scalability and agility of SAP Hana even further.
Highlights of the Huawei FusionCube solution for SAP Hana are follows:
Performance:
SAP Hana benefits from low latency IO to synchronise data into persistent storage. FusionCube offers five times less IO latency and 15 times more IO bandwidth than a leading alternative solution. SAP Hana running on FusionCube is designed so that it can read and write faster, process data loading faster, and accomplish faster system recovery because of its IO performance.
Agility:
FusionCube's innovative software-based storage has a distributed system design that will enable high scalability and high IO performance. The system can scale smoothly and on-demand in dimensions including size of the memory and volume of storage.
Simplicity:
FusionCube is a converged infrastructure that can save space and improve computing density. It also has a unified management interface that covers computing, storage and networking all from one interface. These features are expected to help reduce operational and maintenance costs by as much as 30%. The time to deploy FusionCube in the field can be days rather than months.
Huawei has been adopting a reporting system based on SAP Hana for internal inventory planning, so that time needed for generating reports can be reduced from 10 minutes to one minute, helping Huawei to increase cost savings and user satisfaction. Meanwhile, after a series of rigorous proof-of-concept tests, SAP Labs China has adopted Huawei's appliance for SAP Hana for development, testing and exhibition purposes. This is largely based on the solution's features, including high performance, scalability, reliability, as well as a simplified management mechanism. Since the launch of the FusionCube solution, a number of enterprises and organisations have deployed scale applications of FusionCube in China and other parts of the world, including a leading securities company in Spain, Shanghai Maritime University and Jiangsu Branch of China Mobile in China.
Huawei and SAP have also agreed to further explore opportunities together in various areas including "smart city" and BYOD. Huawei is committed to innovations that will make smart cities a reality. This approach complements SAP Urban Matters, an initiative to help create best-run cities by enabling effective public administration and environmental, social and economic sustainability. The construction of smart cities is a monumental task that will require the cooperation from all levels of governments, citizens, infrastructure and technology providers, among other stakeholders. For this reason, Huawei is actively working to provide innovative ICT infrastructure solutions so that partners can join in the value chain.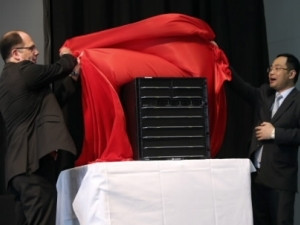 In the smart city domain, SAP and Huawei plan to collaborate to develop smart city solutions for government entities and public organisations in key cities in China, Middle East, Europe, Africa and other emerging markets. Huawei will provide ICT infrastructure like enterprise LTE system, network, server and storage, cloud computing infrastructure, contact centre, video surveillance, telepresence, a hardware system for running SAP Hana and a micro data centre, while SAP will provide the software, in-memory technology and additional software solutions.
In the BYOD sector, Huawei plans to work with SAP in an effort to develop an innovative, "mobility-in-a-box" solution for the enterprise mobility market that is expected to open up a new era for BYOD. Today's typical enterprise mobile office needs automation, but also a means to help drive new service channels and to enhance asset and logistics management. Huawei envisions a cost-effective, efficient and secure solution that can provide an anytime, anywhere professional and secure office environment on Huawei smart devices and that is expected to integrate with industry applications from SAP. Tailored to specific industry processes and needs, the solution will be designed to help ensure that companies can have their back-end management systems extended to smart devices. SAP will provide the overall mobile enterprise application platform for Huawei's AnyOffice platform. The collaboration will initially focus on apparel and footwear, consumer packaged goods, stated-owned enterprise and energy industries.
Working with SAP, Huawei seeks to develop integrated and breakthrough solutions that will help address the changing needs of enterprises and industries in the continuously evolving ICT landscape.