Early risers catch new iPhones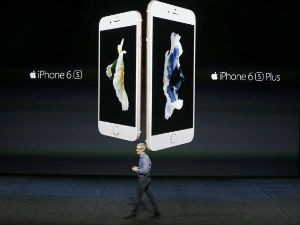 The iPhone 6S and 6S Plus are available in South Africa from tomorrow and super-keen Apple enthusiasts can get their hands on the new phone just after midnight tonight.
MTN's head office in Fairlands, Johannesburg, and flagship stores at Century City in Cape Town and the Umhlanga MTN Gatemax store in Durban will be open for trade one minute after 12 o'clock this evening.
"We are cognisant of how desirable these iconic smartphones are and that many of our customers who are early adopters would wish to be the first to lay their hands on the latest handsets," says Larry Annetts, MTN chief marketing officer.
The Vodacom World store in Midrand will open at 6am tomorrow. "We'll have coffee and snacks for any customers who come through on the day. The other stores will be opening at normal times," says Vodacom.
"There has been huge interest in both devices from our pre-order process, although we can't provide any specific numbers. At this point, we should have sufficient stock to meet launch demands."
Official iStores across the country will open an hour earlier than usual, at 8am.
Apple is offering existing iPhone owners the chance to trade in their older iPhones for a discount when buying the iPhone 6S or 6S Plus outright. This is only available to iPhone 6, 6 Plus and 5S owners.
"Pre-orders have been fantastic, along with interest and trade-in voucher sign-ups," says Tanya Kovarsky, spokesperson for the Core Group, the authorised South African Apple distributor.
Cell C and Telkom have said they will have the phones in stock tomorrow and will open at normal trading hours.
The new iPhone 6S and iPhone 6S Plus feature 3D Touch, Live Photos, and 12MP iSight camera. The phones are powered by the Apple-designed A9 chip. The smartphones are now also available in rose gold.
Prices start from R11 799 for the iPhone 6S (16GB) and R13 599 for the iPhone 6S Plus (16GB) to buy outright.