700k mentions for Oscar trial in week 6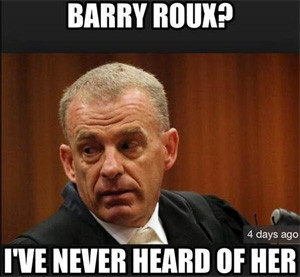 As the Oscar Pistorius murder trial at the North Gauteng High Court entered week six, with the paralympian under cross-examination from the state, the volume of online mentions about the trial have hit 705 012 in the week.
That's according to local online monitoring and insights company, BrandsEye, which notes that the number of individuals contributing to this online conversation is 177 733, averaging 3.9 mentions per author.
Pistorius is standing trial for shooting dead his model girlfriend Reeva Steenkamp on Valentine's Day last year.
Twitter rules
According to BrandsEye, the number of engagements with the online conversation for the trial in week six is 300 289, with 86.1% of them taking place on Twitter; and 9.1% on Facebook. Of the gender data available in the online conversation, BrandsEye says 51.3% of conversation is created by females; with 48.7% being created by males.
"From 3 March to 13 April, 84.4% of online conversation took place on Twitter," says Jean Pierre Kloppers, CEO of BrandsEye. "It's interesting to note that although Twitter is the larger contributing platform, more mentions are created on Facebook per author."
On Twitter, the average number of online mentions per author is 3.8, whereas on Facebook the average number of online mentions per author is 5.2. This shows that while people are tweeting and retweeting, a lot more robust debate is happening on Facebook, Kloppers explains.
The online conversation around the South African election taking place in May has created just over 10 000 more mentions (190 164 mentions) in total, than the first day of the Oscar Trial created alone (179 948 mentions), says BrandsEye.
"In my opinion, one of the largest contributing factors to the massive volumes of mentions around the trial has to do with the opportunity for the public to view the entire court case on TV, minute-by-minute, documenting the events and offering their views and opinions; essentially, the public has been given the opportunity to be involved in this case, and what better platform to do so than social media?" says Kloppers.
He explains that the public is also using social media to complete their picture of what's happening in the court room. "Where witnesses have chosen not to be on camera during their testimony, journalists are describing what they see in court," he notes.
According to Kloppers, the trial is, in a way, a story, which will have an ending, and that keeps people interested. It's progressing and developing every day, and the outcome is what people are anticipating, he says.
"Interestingly, we've found that the conversation online around the trial has been created in real-time, fluctuating with the court proceedings - the hours in which the court is in session, volume of online mentions tends to increase as discussions occur between individuals on various platforms (the majority of which is Twitter)".
Nel vs Roux
Kloppers points out that mention volume decreases dramatically over the weekend. "As with the nature of social media, it is very real-time; we've seen that the online conversation is largely made up of quotes and recaps of the happenings in court - [state prosecutor Gerrie] Nel's questions or Oscar's statements, for example."
BrandsEye reveals that in week one of the trial (3-9 March) when defence advocate Barry Roux was questioning witnesses, he was mentioned online 3.7 times more than Nel was. 'Roux' or 'Barry Roux' was mentioned 66 816 times in week one, it notes, adding that 'Nel' or 'Gerrie Nel' was mention online 18 213 times during the same period.
However, it points out that in week six (7-13 April) when Nel began questioning Pistorius, Nel was mentioned online 3.9 times more than Roux was. The number of online mentions which contained 'Roux' or 'Barry Roux' halved (volume down by 49%) in week six compared to week one, the online monitoring firm says.
On the other hand, it says the number of online mentions which contained 'Nel' or 'Gerrie Nel' was seven times higher in week six than in week one (134 904, volume up by 86%).
"I expect to see online mentions around the elections increase from now until voting day, even if the Oscar trial goes on until then," says Kloppers. "It's possible that the online mentions around the elections are lower than they might be if the Oscar trial wasn't taking place right now due to so much attention being placed on the daily activity in court; however, we have to keep in mind how much international exposure this trial has generated, and that our elections wouldn't be attracting the same magnitude of international coverage."
What will be interesting around election time is to see how the Nkandla debate shifts, Kloppers says. "This is a really important issue for South Africans, and had it not been for this 'hyper reality TV show' in the Oscar trial, the Nkandla debate would be much bigger on the South African social media landscape."