Team ITWeb on track to finish, despite initial health concerns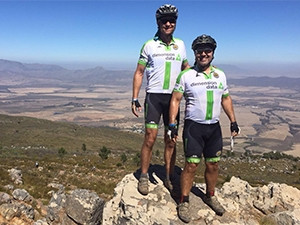 Trust, tenacity and true partnership in a joint venture. All good business values - and also what have kept Robert Mace and JP d'Abbadie of Team ITWeb, powered by Dimension Data, going in the Absa Cape Epic, as they face the toughest stage today (Friday).
It has been a very tough route this year already, says Angela Mace, wife of Robert. "Of 624 teams that started in 2015, 67 were out by day four. This year, 645 teams started and 117 were out after day four. Rob and JP are steadily climbing up the field. They were lying at position 602 after day one, and now (day six, Friday) they are in position 492 out of 645."
"They are doing very well as a partnership. When Rob heard he would be taking part, he had to select a person from his circle of friends to be his partner. His choice of JP is really paying off. JP is a very determined person."
So determined that he stuck with Rob during a bout of mild dehydration on the last 30km of the first day, encouraging him, and stayed with Rob while he was receiving medical treatment. "On that first day, if JP wasn't there, I'm not sure Rob would have made it. They've been friends for a long time. The race is a mental and physical challenge, but with any big endurance race, the mental aspect plays as big a role as physical. Rob saw in JP that he has that mental strength that is important."
Aside from Rob's mild dehydration on the first day (successfully treated overnight), JP and Rob have only had a few scrapes and grazes from the inevitable tumbles in a race of this nature.
"The little extras take some of the worries off your mind," says Angela. She's referring to a service package Rob and JP have taken, with a mechanic to service their bikes overnight, every night. "That's really important, because at this stage, you need to know that after what your bike has gone through, it will hold out."
Team ITWeb powered by Dimension Data is supported by an active WhatsApp group of friends and family. "Everyone is involved and sends them messages every night. They're getting a lot of support."
Angela and her daughter will be joining Rob and JP at the finish on Sunday. "We're really looking forward to it. Even if he doesn't get through the stage, it will just be great to be there at the finish with him. Barring a mechanical fault, they should do it, they've got this far."
Rob's message to the WhatsApp group on Friday morning speaks of similar confidence: "If all goes well, we estimate we should be 30 minutes before cut-off, at eight hours, tomorrow (Saturday, day seven)."