Mr D Food to double customers in six months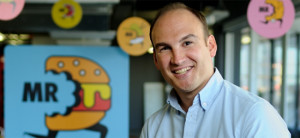 Mr D Food's online food delivery app has been downloaded more than 200 000 times in the last six months and the company plans to double its customer numbers again in the next six months.
"We don't think it's unrealistic to see that number being 400 000 by the end of 2017 and with that comes order and revenue growth," Devin Sinclair, head of Mr D Food, told ITWeb in an interview.
Originally known as Mr Delivery, the South African food delivery business was founded in Cape Town in 1992 and was fully acquired by Takealot.com in 2014. Since 2015, the company has undergone a complete digital makeover and rebranded as Mr D Food.
"The business was 80% phone calls in June 2016 and by June 2017 it had become 95% app-based. So the business has gone from 20% online to 95% online in just 12 months, which is a drastic change," Sinclair says.
He says the move from a phone-call-based system to a digital, mobile-focused offering was spurred by growing smartphone penetration, faster Internet connections and increasing consumer demand for 'on-demand' digital services.
"We are currently taking over 100 000 orders per month through our app. We have a network of more than 1 400 restaurants, hundreds of drivers and we deliver to over 1 900 suburbs in all of the major towns and cities in SA.
"We can't share specific revenue numbers but you can infer from the order growth, because revenue grows exactly in line with orders because it is based predominantly off the amount of food sold," he explains.
In the nine months between June 2016 and March 2017, the company also doubled the number of restaurants on the platform. He adds there has been a major change in terms of frequency of orders per user.
"Customers went from using Mr Delivery a handful of times a year to using Mr D a couple of times a month."
Leaving analogue behind
"The old Mr Delivery was a completely analogue business when I started at the beginning of 2015. We had seen how online food delivery was growing in the rest of the world and the opportunity that was there, if we could get it right. But to do that we couldn't just build an app and put it on the front of an old business; you actually needed to look at every piece of it and rebuild it from a technological point-of-view up," explains Sinclair.
The group started to build all of the tech it would need for its digital reinvention from 2015 into early 2016 and started rolling out the tech in mid-2016. The company built iOS and Android apps for customers and a responsive mobi Web site. It also built an Android digital order communication device, using machine-to-machine communication technology, to make sure that when a customer places an order on the app or online it instantly prints out in the requested restaurant. He says it was important to eliminate the "broken telephone" issues of the past.
Mr D Food also built a live Web portal for the restaurants to manage their orders and menus, and an app for drivers so that they can receive instructions dynamically to execute deliveries.
There is, however, a limit to the number of players the market can sustain and ultimately there will be a market leader, which is what we are aiming for.
"We also had to rework the business model, so that we could maximise the efficiency of the drivers and leverage the synergies with Takealot. So our driver network, and the franchise network that manages drivers, executes deliveries for Mr D Food, for Takealot and Superbalist, and they also do credit card deliveries for FNB.
"It was also about understanding what customers liked about the old Mr Delivery. One of those things was still being able to pay cash. So even though 95% of the orders are through the app, there is still a significant percentage that pay cash on delivery. In the SA market context, we find that's very appealing to a wide base of consumers," he says.
"For us, the major strategy was to rebuild the business in 2015 and 2016, roll all of those changes out in the back half of 2016. Then grow and operationally stabilise this new business in the first part of this year and now launch the new brand and really drive forward to new levels from here. The next six months are very growth-focused."
Competition is good
When asked about the impact of rival online food delivery services like UberEats and OrderIn, Sinclair says Mr D Food has seen an impact, but in the opposite way to what you would expect.
"In mid-2016, we started rolling it all out across the country, one area at a time, and it took about six months. UberEats launched in September 2016 in Johannesburg and in February in Cape Town and we have seen nothing but growth since October last year.
He says the business' current monthly orders are significantly higher than they have been in any year in the last five years.
"So funnily enough, the introduction of UberEats has potentially grown the category as a whole as opposed to creating a problem," he explains.
"There is, however, a limit to the number of players the market can sustain and ultimately there will be a market leader, which is what we are aiming for."
Sinclair believes the rise of online and app-based food delivery is because of consumers' need for convenience as well as a clear channel shift towards mobile.
"In more developed markets, where online food delivery has exploded, it has exploded through online and a shift to mobile. More and more people will want to order their takeaways through an app rather than over the phone. There is a forecast number of 20 million smartphones in SA by 2020 and we see that as being what will drive a lot of our growth.
"Those behaviour shifts that have happened in developed markets, we don't see a reason why South African consumers won't follow the same trends that have happened elsewhere in the world. Because the consumer behaviour fundamental is largely the same, so as data gets cheaper, as more people get smartphones and as we hopefully continue to deliver a good service to people ? it will be their favoured way of getting food," he concludes.