Cat-friendly robot entices at MWC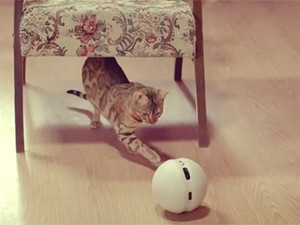 Every year, thousands of people flock to Barcelona to be the first to experience innovation in the mobile space. This year, the first day of Mobile World Congress featured products ranging from remote-controlled home surveillance systems, to self-parking cars.
Here are a small selection of the products unveiled.
Pocket computer
HP released a Windows smartphone, the HP Elite X3, that when connected to a monitor, can be used as a regular computer. It runs Windows 10, has a six-inch display and a large 4150mAh battery.
The dual-SIM device is waterproof, and the company says it will survive a 1.2m fall. It has a Qualcomm Snapdragon 820 processor, 4GB RAM and 64GB on-board storage, with a microSD slot for expandable memory up to 200GB.
Personal robot
LG presented the Rolling Bot: a remote-controlled home surveillance device. The small rolling robot works through a connection to a home's WiFi system. It can be controlled remotely through an app on the new LG G5 smartphone.
The device features an 8MP camera and will stream video feedback to the person using the app. Users are also able to take still photos using the robot. One of the more quirky features is a remote-controlled laser pointer that allows cat owners to play with their cats while away.
Project Tango
Google and Lenovo exhibited Project Tango at the Barcelona Museum with an immersive experience for viewers. The project combines 3D motion tracking with depth sensing to give a mobile device the ability to know where it is and how it moves through space.
The technology solves the problem of indoor navigation, where GPS does not work. Using the device, users are able to map their way inside a building, with data popping up at certain points. For example, when standing in front of a painting in a museum, data about the artist will appear on the device.
VR cameras
Nokia and smartphone manufacturers Samsung and LG revealed cameras capable of capturing video and pictures for virtual reality headsets.
Nokia showcased the Ozo VR camera, aimed at professional content creators. It allows film makers to view the VR video as it is being recorded, through a VR headset.
Samsung and LG announced VR cameras for the consumer market: the Samsung Gear 360 and LG 360 Cam. The Gear 360 has dual 15MP fisheye lenses and is used with a small tripod. The 360 Cam is handheld and features two 13MP 200-degree wide angle cameras.
Clever cars
Ford unveiled its Kuga SUV, which offers technologies and updates to make driving simpler, safer and more affordable. Ford says it is transitioning from an automotive company to an auto and mobility company.
The Kuga will allow drivers to park hands-free with Ford's Perpendicular Parking technology. It will also feature an enhanced version of Ford's Active City Stop collision avoidance system and an adaptive front lighting system for optimised visibility in low light.