Wipro and Gordon Institute of Business Science (Gibs) announce successful completion of the first edition of the 'Future CIO' programme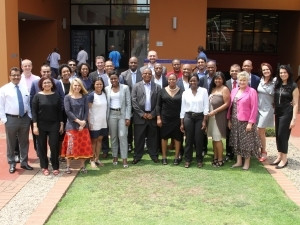 Wipro (NYSE:WIT, BSE: 507685, NSE: WIPRO), a leading global information technology, consulting and business process services company, and the Gordon Institute of Business Science (Gibs), a leading business school in South Africa, announced the successful completion of the first edition of the 'Future CIO' learning programme. In a graduation ceremony held recently, 19 graduates were presented with certificates marking the completion of the six month-long programme.
The 'Future CIO' programme, a joint initiative by Gibs and Wipro, was launched with the objective of developing and honing talent for global technology leadership roles. The programme, which commenced in June this year, comprised of three modules. The first module on 'Enterprise Leadership' was conducted at the Gibs campus in Johannesburg in the month of August over four days.
As part of the second module, the candidates travelled to India in October for five days, where they received in-depth theoretical and hands-on training on global leadership skills and technology themes. They were also introduced to a traditional yet ingenious business practice such as 'Dabbawallahs', a highly effective logistical system to deliver lunch boxes from the suburban areas to the office workers in Mumbai. According to Wikipedia, between 4 000 and 5 000 Dabbawallahs deliver anything between 175 000 and 200 000 home cooked lunches from suburban homes to the employees working in the city in a highly precise and efficient manner.
The third module on 'Functional Leadership' was conducted over four days at the Gibs campus in November. During this programme, the candidates were exposed to subjects such as 'disruptive technologies', 'barriers to innovative thinking' and 'innovating for a future market', by some of the brightest business and technology minds across the globe.
Gavin Holme, Country Manager, Africa, Wipro said: "As we move rapidly into an era of digital transformation, the role of a CIO has become vital to a company's strategy and performance. There is a need for CIOs to have an understanding of an array of advanced and robust digital technologies while crafting an organisation's technology estate.
The curriculum for the 'Future CIO' programme, jointly developed by Wipro and Gibs was designed to cultivate leadership and give the candidates an understanding of key technology themes that are of importance in the new digital economy."
Amantha Naidoo, IT Director at Imperial Health Sciences and one among the 19 candidates of the Future CIO programme said: "This programme has been an enriching experience that has provided me with an opportunity to work with like-minded individuals and future industry leaders. The inspiring sessions of the curriculum made me realise that each one of us can make a significant contribution to our companies by determining the right technology strategy for the organisation."
"Our programme enabled both Gibs and Wipro to impart relevant skills, knowledge and insight to the candidates, preparing them to convert this new knowledge into applicable strategy," adds Abdullah Verachia, Gibs faculty lead on this programme. "More importantly, this programme combined in-depth theoretical training with practical exposure to business leaders from leading global organisations, thereby providing a complete learning experience for the candidates."
Criteria for selection of the candidates into this programme included strong recommendations from the CEO or board member of their respective organisations, recommendation from their managers, work experience of the candidate as well as the candidate's goals.