Court interdicts CWU "intimidation"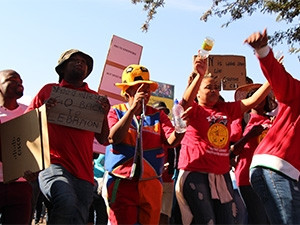 Telkom has secured an urgent interim court order interdicting and restraining the Communication Workers Union (CWU) and its members from a number of illegal activities associated with the union's current strike - including intimidation and threatening of fellow employees.
Telkom says that the CWU today blocked access to the its campus in Centurion, along with some Telkom yards.
"Less than 100 CWU members today chose to harass and intimidate employees in Centurion. There were also some reports of blockades and intimidation at a few Telkom facilities elsewhere in the country," the company said in a statement.
Telkom says employees in Centurion were physically restrained by protesting workers from entering the Telkom campus and were threatened with physical injury.
"Telkom will not tolerate the sort of thuggish behaviour we witnessed today," it says.
The urgent and interim court order, obtained this afternoon, interdicts and restrains the CWU from interfering with Telkom's business operations and from blocking Telkom entrances at all premises in all provinces. It also prohibits any intimidation or threatening of non-striking staff who want to enter Telkom premises and perform their duties.
The interdict also orders CWU members who are participating in the strike, which began last week, to do so 50 meters away from Telkom premises.
"Telkom spent months negotiating with all of organised labour and were greatly encouraged when the South African Communications Union (SACU) and Solidarity signed the collaborative partnership agreement on 2 June 2016. At the time, CWU's leadership indicated their intention to sign the agreement but to date that has unfortunately not happened," the telco says.
Telkom says it has met the unions on so many of its demands, such as a moratorium on retrenchments, a cap on outsourcing and a guaranteed wage increase next year.
"So it is disappointing to not only see industrial action from the CWU but for it to be accompanied with aggressive intimidation of our employees, while blocking access to our campus and some facilities."
The union is demanding an 11% annual salary increase and six months' maternity leave for its members.
The union has over 4 000 members working at Telkom and around 900 went on strike on 11 August, according to Telkom's group executive for communication, Jacqui O'Sullivan. On 12 August the number dropped to 453 people - less than 4% of Telkom's workforce. Today she says there were less than 100 striking workers outside the Telkom Campus in Centurion, but no figures were yet available for workers in the rest of the country.
"To succeed in delivering sustainable growth, Telkom must fully turn its attention to our customers. We have to focus on how best we can improve our productivity and better serve our customers and the collaborative partnership agreement, with the incentive programme Performance Pays, is how we will encourage and reward staff for delivering service excellence," Telkom says.