Augmentation role-based resourcing cost model for projects
As a key role player in the project management industry in South Africa, allaboutXpert specialises in programme management, project management, business analysis and change management. allaboutXpert understands the importance of predictable project forecasting and budget management. As a result, allaboutXpert is perfectly positioned to identify the need for a more predictable resourcing cost model for some of its major clients.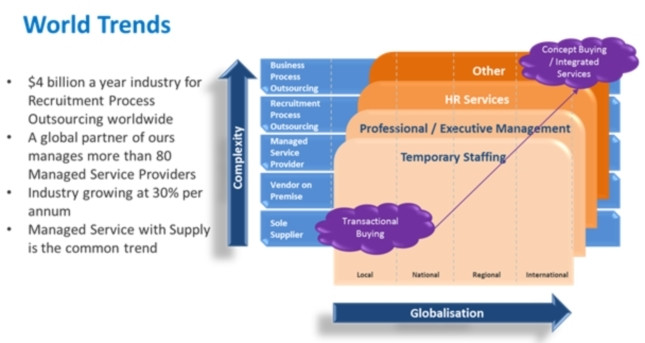 As companies are increasingly recognising the need for specialisation of recruitment services and the management of non-permanent workforces, the world market is moving towards recruitment process outsourcing. The Resource Augmentation Model is a step in the right direction for large companies looking to evolve from traditional contracting models to a managed service offering, as illustrated in the diagram below. allaboutXpert, as part of the Adcorp Group of Companies, is well positioned to offer this service.
allaboutXpert is passionate about a collaborative approach and integrating sustainable long-term models that are in line with market trends. The Augmentation Resourcing Model is the company's solution to fill this gap for its clients in the project resourcing space. The Resource Augmentation Model is a role-based rate card that standardises cost per project resource roles, giving allaboutXpert clients clear, predictable costing when it comes to forecasting resource costs in project plans.
Apart from cost predictability, this model is also low risk for its clients as the company assumes responsibility for managing contractor costs.
allaboutXpert is a trusted talent management partner, building a strong talent pool to best serve its clients' ongoing resourcing needs, matching particular skills requirements and ensuring culture fit. By understanding both its clients and consultants' needs, allaboutXpert believes the sustainability of the model requires adding value from a career development perspective as well. As a result, allaboutXpert's offering includes training courses, time off cover, as well as "performance swap-outs" to reduce downtime on its clients' projects. The model provides clients with improved control over project costs, leading to greater profitability and sustainability in the long-term.
Since its inception, the allaboutXpert Augmentation Resourcing Model has been successfully implemented in no less than three JSE listed companies, with excellent results in each unique environment.