Customer growth boosts Vodacom revenue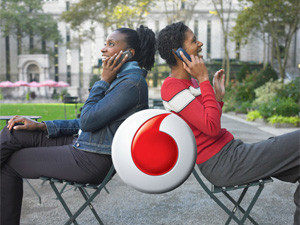 Vodacom's full year revenue was boosted by the addition of 5.5 million new customers across its five African operations, with three million of those subscribers added in the local market.
Group revenue grew by 1.5% to almost R81.3 billion for the year ended 31 March. Vodacom now has 66.8 million customers across its operations in SA, Lesotho, Tanzania, the Democratic Republic of the Congo and Mozambique, compared to just 61.3 million at the same time last year.
Group service revenue grew by 2.3% to R68.3 billion, while headline earnings per share rose 4.5% to 923cps for the 12 months.
SA's service revenue increased 5.6% to R52 billion, aided by strong customer net additions.
However, international operations' service revenue declined 5.6% to R16.8 billion, impacted by currency volatility, and customer registration processes.
Group operating profit increased 3.3% to R21.7 billion, with strong growth from the South African segment, offset by the decline in the international operations. Group earnings before interest, tax, depreciation and amortisation grew 2.9% to R31.2 billion. A final dividend of 435cps was declared, taking the total dividend to 830cps for the year.
Data demand
"The sustained demand for data remains a key driver for growth, with active data users up 8.3% in SA and 29.3% across our international operations," says Vodacom group CEO Shameel Joosub.
Data now comprises 36.3% of group service revenue, compared to 31.9% a year ago. Group data revenue was up 16.4%, supported by a "strategy of data network investment and device migration".
Vodacom says in the past 12 months, voice and data prices fell by 14.3% and 16% respectively in SA because of more data bundle usage. This brings the cumulative reduction in voice and data prices to 42.2% and 44.3% over the past three years, according to the telco.
"Still, we remain focused on addressing out-of-bundle pricing and recently launched an enhanced smart notification service to encourage in-bundle usage," Joosub adds.
"To solidify our network and service differentiation and support this continued growth, we invested R11.3 billion in our infrastructure, of which R8.5 billion was in SA, where we expanded 4G coverage to 75.8% of the population and 3G to 99.8%," he says.
Over the past three years, capex across the group totalled R37.5 billion, with R25.9 billion in SA alone.
Vodacom's international operations recovered from the customers disconnected in the prior year, adding 2.5 million customers, a 9.3% increase to total 29.7 million. Meanwhile, SA's customer numbers grew by 8.6% year-on-year to 37.1 million.
"Although short-term pressures remain, we expect the introduction of 'Just 4 You' across all our operations and the continued success of M-Pesa to provide for improved commercial execution to this portfolio," says Joosub.
"Fuelled by expanding distribution channels and the expansion of products and services on offer, we increased the number of customers that use M-Pesa by 3.7 million to almost 13 million, contributing to a 19.4% rise in M-Pesa revenue."