MTN offers Mobile Money Visa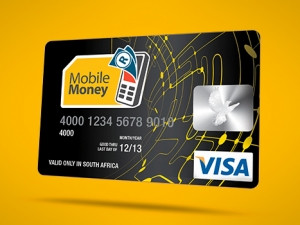 MTN SA has launched a Visa card for Mobile Money users in SA.
The operator, which launched its cellphone-based bank account service at the end of 2012, says the Mobile Money Visa card offers users "full banking functionality" - including paying for goods and drawing money at ATMs.
CEO of MTN SA Zunaid Bulbulia says the Visa is "the next phase" of the company's mobile banking services drive. "We are enabling customers to use their Mobile Money Visa card at ATMs and other till points across the country with free unlimited card swipes and full banking functionality. The Mobile Money Visa card has no monthly or annual card fees."
The card, currently available from Pick n Pay and Boxer stores for a one-time fee of R29, will be activated on customers' accounts within 72 hours of them following the given instructions.
Bulbulia says the Mobile Money Visa will "extend the net" and drive financial inclusion of those who are either unbanked or under-banked.
Since the local launch of Mobile Money in November 2012, says MTN, over two million customers have registered on the platform, with over R2.5 billion monetary transactions processed.
In March, Mobile Money received regulatory approval to become a fully accessible bank account on a mobile device with increased daily limits and functionality. "To support the proposition of higher daily limits, a mobi-site went live. [The site] allows Mobile Money customers to make EFT payments into other banks and pay for regular items like school fees.
"In addition, Mobile Money can be used to make micro-payments, conduct fund transfers and purchase airtime, prepaid electricity and Internet bundles."