Adobe CTO heads to Apple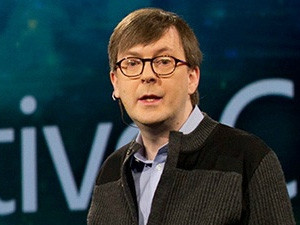 Adobe's CTO, Kevin Lynch, will join Apple as VP of technology. Lynch has been a long time defender of Flash technology and publicly clashed with Apple over it in 2010, when the iPad was released with no support for Flash.
At the time, former Apple CEO Steve Jobs even went so far as to write a public letter voicing his personal stance on Flash. He said: "Flash was created during the PC era - for PCs and mice. Flash is a successful business for Adobe, and we can understand why they want to push it beyond PCs. But the mobile era is about low power devices, touch interfaces and open Web standards - all areas where Flash falls short."
At the same time, Lynch argued that Apple's philosophy was "counter" to the Web, and that forcing companies to write software for a specific operating system was pushing up the costs of development.
Lynch also cited the partnerships Adobe had with other device manufacturers, and said: "All the innovation coming from all those companies will dwarf what's coming from the one company that isn't participating."
The runaway success of iOS, however, led to a dwindling market for Flash - with even Adobe's ally, Google, dropping support for it shortly after punting it as a differentiating feature for its Nexus devices.
An Adobe spokesperson has confirmed the initial reports of Lynch's resignation, saying: "Kevin Lynch, Adobe CTO, is leaving the company effective 22 March to take a position at Apple. We will not be replacing the CTO position; responsibility for technology development lies with our business unit heads under the leadership of Adobe CEO Shantanu Narayen.
"Bryan Lamkin, who has recently returned to Adobe, will assume responsibilities for cross-company research and technology initiatives, as well as corporate development. We wish Kevin well in this new chapter of his career."
Apple has also confirmed their new hire, saying Lynch will join the company as VP of technology and will report to SVP of technologies, Bob Mansfield.
Reports have suggested Lynch had aspirations to take the CEO position at Adobe, but Narayen is not planning on giving it up anytime soon. It has also been said that while his new position at Apple is less senior, he could potentially be primed to take Mansfield's role.
Back in June 2012, Apple announced Mansfield's retirement, but then announced in August 2012 that he would remain at the company and work on "future products". Then, in October last year, during a major executive shake-up, it was announced that Mansfield would take on the role of SVP of technologies.
Tech commentator John Gruber has called Lynch's appointment a "bad hire". Gruber quotes a statement Lynch previously made back in 2010:
"Even in the case of video, where Flash is enabling over 75% of video on the Web today, the coming HTML video implementations cannot agree on a common format across browsers, so users and content creators would be thrown back to the dark ages of video on the Web with incompatibility issues."
Gruber quips: "And now here we are today in the dark ages of video, where we can only see by the light of the millions of HTML5 videos playing on Android, Windows Phone, BlackBerry, and iOS mobile devices. I have a bad feeling about this."