Windows 8.1 update fixes key complaints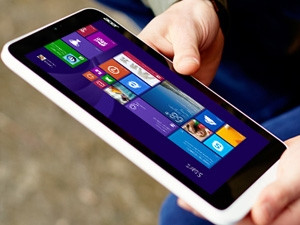 Microsoft has rolled out Windows 8.1, the update to Windows 8, largely aimed at addressing criticism of the operating system. The update is available for free to existing Windows 8 users, via the Windows app store.
Many of the changes in 8.1 are cosmetic, based on feedback from users. Windows 8, the unified platform delivering a consistent look and feel to mobile devices and desktops, was heavily panned by critics as being overly complex, too different from the existing Windows design, and badly suited to desktops in particular. The full breakdown of changes is available on Microsoft's Web site.
The update will entail a hefty download - 3-4Gb depending on your version - and Microsoft is making ISO disk images available for offline install, particularly for retailers doing customer updates in-store.
Restart
The Start button and menu are back, addressing one of the top complaints of users: that the only way to access programs was via the full-screen Modern UI interface, creating a jarring disconnect between open desktop apps and launching new programs.
That start screen has been heavily overhauled. 8.1 allows much greater flexibility in icon placement and resizing, and there is a new app list which shows all installed apps, sorted by name, category or date of install (making finding a recently installed app a great deal easier).
Users now have a choice of booting directly to the desktop rather than that start screen. Colin Erasmus, head of Windows at Microsoft SA, notes the preference tends to be strongly split by user: enterprise users prefer the traditional desktop view, while consumers lean towards the tablet-friendly interface - this tackles another of the major complaints in Windows 8.
Most of the default apps have also received cosmetic tweaks and in some cases feature updates, though most are minor. And in the app store, it's clear that Microsoft still has a long way to go to match the app ecosystems of Apple and Android.
It's a snap
The side-by-side multitasking has been improved. Windows 8 allowed two apps to be displayed side by side, 8.1 increases that to three, and allows for more flexible allocations of screen real-estate.
Apps will need to be rebuilt to take advantage of this feature, but old apps will simply scale as best they can. The split-screen facility now extends to external monitors, too.
Some apps now use "snap view" by default. If you open a Web link from an e-mail or social network, the browser will fly in to run alongside the original app.
Bing and SkyDrive
Microsoft has more tightly woven Bing search and SkyDrive cloud storage into 8.1. Search has been improved to deliver local storage and Web results, tailored by geolocation.
SkyDrive is more closely integrated, both in presentation and function: 8.1 keeps files and device settings automatically in sync through the cloud.
You can change search providers for Internet Explorer, but not for the device itself: that's exclusively Bing.
In the workplace
Windows 8.1 also brings enterprise enhancements - the new Workplace Join feature offers a middle ground between full-blown Domain Join (under the IT department's control) and no access at all. A Workplace Joined device can use domain credentials to access resources, while limiting the employer's ability to remote-wipe, for example.
Work Folders keeps files in sync between a fileserver and the device. And a host of MDM features are new or improved - the timing of Windows 8.1 and Windows Server 2012 R2 meant several new features could be rolled out together.
Many new devices are in the pipeline, though support for the unpopular ARM-based Surface RT has dwindled. Microsoft has now renamed the Surface RT (now "Surface 2") citing confusion, but it could equally be an attempt to shed a tainted brand.
But the more powerful Intel-based Windows Pro devices, running the new OS, are taking aim at the market with the advantage of a year of feedback. 2013 may have been an annus horribilis for Windows 8, but Microsoft has hopefully learned an object lesson in listening to the market, and 8.1 will be its first major push to get its strategy back on track.