Lessons from mobile-first innovators
Mobility gives users freedom, improves productivity and encourages a sense of pride.
Education is a fantastic example of a sector that is embracing mobility at a rapid pace. There is no other industry that has such a proliferation of devices all personally owned by the end-user, and there is a significant attrition rate, with around a third of the student population naturally churning each year, meaning new devices are brought in which need to be managed.
The success of mobility in education is that this industry decided to make mobility core to its IT delivery, from a student and staff point of view. Teachers and lecturers are developing services that enable them to be mobile and agile in how they research and teach. For students, mobility is crucial, as they can now access courseware and textbooks on the fly and can make use of the Internet for research purposes on a constant basis.
Other industries where mobility is really paying off is in businesses with large volumes of field workers, such as builders, healthcare practitioners, electricians, retail and even pharmaceutical agents. Tablets are being used to record numbers of customers, contact details and jobs completed, and even to invoice customers on site.
Making mobile work
Why does mobility work? Because it gives people freedom, helps improve productivity and encourages a sense of pride. Yes, in this mobile-first and mobile-above-anything-else world, security can still be a stumbling block, but IT errs when it tries to lock security to the hardware. Security should be focused on access to data, through the mobile cloud, and should make use of role-based access policies.
Using the example of education again, it is an industry that applies simple policies, the same that can be applied to staff and that are agreed on up front. If staff members use their own devices, they have to be password-protected. If a device is lost then IT is allowed to wipe the data.
While there may be some reluctance to this, remind them they wouldn't want an outsider to access their personal photos and messages, so as much as the policy protects corporate data, it protects them too.
Mobile challenges
But, there are challenges to mobility. The first, not surprisingly, is still security. This rings true specifically for financial services and public sector clients who are custodians of large volumes of sensitive and personal data.
When it comes to security, customers are urged to start by making sure only the right people access the right data. It is not new, but it needs to be enforced, as it remains the single biggest challenge and inhibitor to a mobile-first strategy.
As an example, in a recent study, it was revealed that 34% of IT departments cannot control access to company information from all employees' mobile devices.
Another challenge to IT is having better visibility of apps and devices in response to shadow IT. For example, a CIO at a large global bank didn't allow employees to use Dropbox, but when he looked at Web logs, he found about 60% were. Furthermore, the study found 28% of employees circumvent the IT department to get the mobile tools they need to get the job done.
Multiple device management is another big headache for customers.
Multiple device management is another big headache for customers. All these devices and new applications coming onto the network need to be supported in some way. In the same study, it was revealed just 12% of IT departments believe they have all the mobile management capabilities to provision staff's mobile needs. This is before IT has even touched its legacy systems.
What does mobile-first mean?
Success in the digital world means connecting the right resources - people, capabilities and information - quickly. Worryingly, the study found it takes three weeks for the average IT department in Europe, Middle East and Africa (EMEA) to equip staff and get them up and running with the mobility tools and applications they need to do their jobs. This is an eon in today's digital world.
Key inhibitors to mobility are that 51% of companies battle to justify the return on investment and 44% of staff simply don't trust it. Conversely, IT still focuses on the cost of supplying and dealing with mobile devices, as opposed to the benefits it can unlock.
But, the consumerisation of IT marches on and is driving the need to immediately empower users. These, coupled with CEOs and management demanding rapid ROI and productivity gains, are all a clear case for why IT must consider mobility first.
Today, the phrase 'freedom within a framework' rings true and employees have to feel they have ultimate choice over the ways they work. IT needs to cater for this, while retaining enough control, centrally, to ensure security of data and business best practice are not compromised.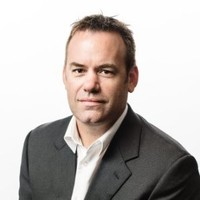 Regional Director, Splunk

Nick Black opened the Splunk office in Johannesburg in early 2019. He has built a world-class team of professionals that address all the fundamentals of driving value into the South African economy through innovative and disruptive technology stacks. Prior to joining Splunk, Black spent five years at VMware in South Africa and six years at Trend Micro – responsible for the Middle East, Turkey and African markets.