Infoblox Reporting and Analytics free tier. Yes, I said free!
Matt Gowarty - Sr Marketing Manager Cloud & Virtualisation
If you haven't looked at Infoblox Reporting and Analytics recently, now is the time to learn how you can harness actionable insights to monitor, analyse and secure your network and devices with ease.
Infoblox Reporting and Analytics provides actionable network intelligence capability by combining centralised visibility with data-driven insight, making it easier to analyse, control and secure your network as it becomes more extensive and sophisticated. Leverage actionable analysis and insights to improve availability, meet compliance, and deliver future requirements.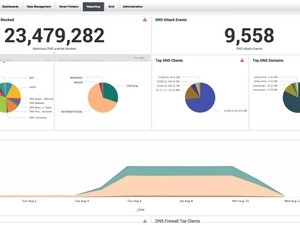 If you're an existing Infoblox DDI customer, you can qualify to get Reporting and Analytics at no cost (see requirements below). Simply request a virtual appliance (TR-v2205) with 500MB/day indexing capacity and configure it to your existing Infoblox Grid deployment.
You'll get:
* Over 90 preconfigured reports for security, DNS, DHCP, discovery, IP address management, and more;
* Configurable alerts to separate critical data from background noise;
* Predictive analytics to plan for future requirements;
* Pre-built compliance reports to simplify audits;
* Security reports to detect and remediate threats; and
* Role-based access rights to provide controlled visibility to various staff and admins.
A few requirements to keep in mind for Infoblox's Reporting and Analytics free tier offer:
* User must be an existing Infoblox DDI customer under an active Infoblox maintenance contract to be eligible for the free Reporting and Analytics tier offer.
* Customer's Infoblox Grid must be running NIOS version 7.3.5 or later.
* Customer must provide a VMware virtual machine to install the Reporting and Analytics software.
View the deployment guide for install instructions and how to stay under 500MB/day indexing.
* If you need to upgrade to a higher capacity licence at any time, please contact your Infoblox representative.
* Each subscription is valid for one year.
Take advantage of this opportunity to get more out of your Infoblox DDI investment with Infoblox's free tier. Request your licence today!