Tech enabling highly personalised, creative workplaces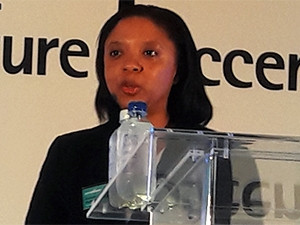 Digital technology is continuing to evolve at breakneck speed, affecting nearly every aspect of our working lives.
So said Dr. Roze Phillips, an MD for Accenture Consulting, speaking at the 60th annual Institute of People Management Convention event in Johannesburg today.
According to Phillips, connected smart devices, sensors, cloud, big data and analytics technologies are democratising the workplace by enabling tailored roles and rewards, allowing a flattening of the organisation and putting the "human back in" human capital."
"Technology is allowing employees to move away from doing mundane, dangerous work that machines can do for them. Machines are becoming cleverer in terms of how they respond to the user and how they think."
The workforce roles, demographics and expectations are changing, said Phillips. "By 2025, 75% of the workforce will be made of millennials - 15% of them are already managers.
"These millennials prefer to choose when and where to work rather than being placed in a nine-to-five position. About 90% of them do not plan to stay with any given employer for more than five years. They prefer on-the-spot recognition over formal reviews and 60% of them prefer a job with social impact - technology is a key influencer of these new ways of working."
Through digital, people can co-create highly personalised work experiences, lead and manage in ways that free employees to exercise judgment and release their creativity at all levels of the organisation, Phillips elaborated.
It is clear that the next major connected ecosystem to emerge beyond our cars and homes is likely to be the workplace - influenced by a number of factors, including millennials, where the benefits of living services for workers at all levels will be tangible, she said.
Living services, also known as the Internet of things, are the result of two powerful forces: the digitisation of everything and 'liquid' consumer expectation, she added.
Leading companies have realised the workplace changes in demographics and expectations, said Phillips.
As a result, they are applying consumer principles to raise the bar for the employee experience, delighting employees as they would customers, she continued.
These companies are putting experience at the heart to deliver differentiated employee experiences to attract, develop, engage, and retain top talent in today's digital economy, noted Phillips.
Studies have shown that companies who design their business and HR processes around the moments that matter to the employees outperform the S&P500 by 122%, she said.
So re-imagining your business process, structure and culture is not just a response to the impact of technology or the requirements of the future workforce, it also makes good business sense, explained Phillips.
Emotional intelligence, creative and critical thinking, as well as ingenuity, are going to be the skills human beings will need to focus on more and more to remain relevant, said Phillips, adding schools are not preparing graduates for these skills.
She therefore believes 'corporate universities' will become important in training employees in digital skills.
"We are going have to take graduates and use our corporate universities - that is on-the-job training - for them to learn how to work in the digital space.
"Everything analogue is going to become digital, work processes are going to become digital, your assistant is going to be inside a machine. Therefore digital fluency is an important skill and I absolutely advocate that as South Africans we make sure that kids are digitally fluent."
Phillips believes that if businesses lead in training employees in digital skills, then universities and the education system will follow.
Because technologies inventions are changing so rapidly and quickly, learning will need to be continuous, she emphasised. Organisations should make sure that employees are forever learning something new on e-learning portals or using YouTube videos, concluded Phillips.