Deciding on a Web conferencing platform - experts give their advice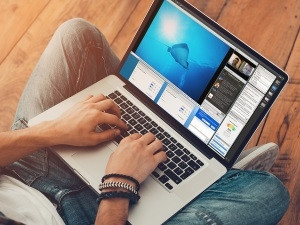 Business leaders are aware of the importance of doing business over the Internet - it's vital in connecting with people in other parts of the world. From the need to take business communication digital to support globalisation and a mobile workforce came the influx of Web conferencing platforms. These solutions support communication, content sharing, and collaboration through online meeting, Webinar and training spaces.
Web conferencing allows for real-time, face-to-face communication at any time, from anywhere in the world.
Choosing the right solution for your business can be daunting. Before selecting a platform, experts recommend that business leaders identify their Web conferencing needs, and then set about matching the solutions to their requirements.
To help you get started, Dax Data has compiled a list of key capabilities that all reputable Web conferencing platforms should have:
1. Easy meeting set-up - User friendly, allowing for quick and easy meeting room creation.
2. Cross-platform accessibility - Ability to use the tool across PCs, mobile devices, and operating systems, ensuring all users get the same experience.
3. Host controls - Ability to easily manage the meeting space, from adding participants, to monitoring interactions.
4. Full reporting - Easy follow-up options, reporting on event stats, and archiving options.
5. Security functions - Ability to manage and restrict content.
6. Customisation options - Easily customisable in terms of look and feel, as well as functionality.
7. Ability to record and share meetings
8. Persistent meeting rooms - Meeting spaces are not automatically deleted after each meeting. Rooms can be created on a "fit for purpose" basis.
From the wide variety of paid and free services out there, expert studies have identified the top players in Web conferencing. A recent Gartner Magic Quadrant Report on Web conferencing identified Adobe Connect as a top player: "Adobe Connect is suitable for a full range of advanced enterprise use cases, and addresses specific needs, including custom requirements of healthcare, finance and education sectors."
Similarly, a report from Inflow Analysis also ranks Adobe Connect as a leader, detailing Connect's extensive functionalities and accessibility as its reasoning.
So, how does Adobe Connect hold up against Dax Data's list of key capabilities?
Adobe Connect's user interface is simple to use and easily customisable - allowing users to create persistent meeting rooms, include corporate identity elements and fully customise the work space. Connect allows the meeting host to send and track invitations, as well as do follow-ups after a session - resulting in more meaningful engagement.
With the multitude of devices out there, it is important that your Web conferencing solution caters for users working across all major platforms. Adobe Connect does just that, and desktop and mobile device users have the same functionality and get the same experience.
In the virtual space, interaction and collaboration are just as important as in 'the real world'. Your Web conferencing platform should facilitate this, regardless of use case. Adobe Connect allows the meeting host or trainer to easily manage what is happening in the room, from managing break-out rooms, voice and text chat options to content sharing.
Using platforms like Adobe Connect, which are feature rich, easy to use, and fit for purpose, are huge cost savers for your business. Whether Web conferencing is a bonus or a necessity, the ability to host meetings, Webinars and training online from anywhere saves travel time and expenses by providing a space for collaboration without having to be in the same physical space. Corporate events held online have less set-up costs and take less time to organise and follow-up on - reducing spending and risks. Meetings held online mean your clients don't have to leave their office, drive through traffic or find parking. Students can learn from wherever they are, without missing out on classroom interactions.
Adobe Connect offers a month's free trial of its meeting, Webinar and e-learning solutions - brilliant for getting to know its functionalities and benefits before you commit.