Nigerian authority backtracks after slashing MTN fine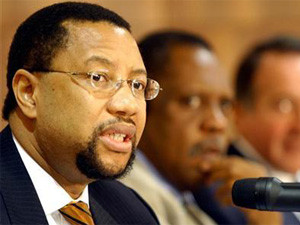 The Nigerian Communications Commission (NCC) has backtracked on its offer to reduce MTN's pending fine in the West African nation by 35%, they will now only be cutting it by 25%.
The telecoms giant this morning confirmed that it had received a second letter from the NCC, dated 3 December, stating that the fine would be reduced from the original 1.04 trillion naira ($5.2 billion) to 780 billion naira ($3.9 billion). Yesterday the company announced that the NCC had sent them a letter dated 2 December saying the fine would be slashed to 674 billion naira ($3.4 billion).
The second letter supersedes the first letter but the payment date remains 31 December 2015. MTN says neither letter set out any details on how the reduction was determined.
The original $5.2 billion (R75 billion) fine was slapped on MTN in October for failing to disconnect over five million unregistered SIM cards on its network in Africa's biggest economy. The new penalty amount is the equivalent of around R56 billion, about R7 billion more than yesterday's expected reduction.
MTN says it is carefully considering both the first letter and the second letter, and that executive chairman Phuthuma Nhleko will "immediately and urgently re-engage with the Nigerian authorities before responding formally". Incidentally MTN said the exact same thing yesterday when the original reduction was announced. Whether Nhleko's 'immediate and urgent' engagement after the first letter affected the fine re-negotiation remains unclear.
MTN also yesterday announced a massive restructuring of its leadership positions in a number of territories. The job shuffle included the exit of MTN Nigeria's CEO Michael Ikpoki and the head of regulatory and corporate affairs in Nigeria, Akinwale Goodluck, who both resigned with immediate effect.
The shuffle also saw a restructuring of MTN's business into three regions -West and Central Africa (WECA), South and East Africa (SEA), and Middle East and North Africa (MENA) - and the appointment of a number of new top execs, including new group COO Jyoti Desai.
After yesterday's announcement MTN's stock fell over 4.5% and closed at R140 a share. When the fine was announced at the end of October the share price was sitting at around R190 per share. The stock priced has fallen almost 37% year-to-date.
MTN is the largest mobile phone operator in Nigeria, and the West African nation is also MTN's biggest market. The telco had 62.5 million subscribers in Nigeria as of the third quarter this year and the country accounts for about a third of the MTN group's revenue.