HPE reveals secrets behind supercomputer's space success
The Spaceborne Computer has marked one full year on board the International Space Station (ISS) National Lab, operating nearly flawlessly in the space station's microgravity conditions, unpredictable levels of radiation, and unique power and cooling conditions.
The supercomputer is part of a year-long experiment conducted by Hewlett-Packard Enterprise (HPE) and the National Aeronautics and Space Administration (NASA) to run a high-performance, commercial off-the-shelf (COTS) computer system in space, which has never been done before.
On 14 August last year, the SpaceX CRS-12 rocket, developed by Elon Musk's SpaceX, launched from Kennedy Space Centre, Florida, sending its Dragon Spacecraft to the ISS National Lab. Aboard the Dragon was the HPE supercomputer.
The goal is for the system to operate seamlessly in the harsh conditions of space for one year, roughly the amount of time it will take to travel to Mars.
Space odyssey
HPE says so far, the supercomputer has laid the groundwork for performing compute-intensive experiments without aid from Earth, which will be necessary to advance space exploration on journeys millions of miles away from our home planet.
More importantly, it adds, this experiment enables us to apply our learnings to advance Earth-bound technologies and further increase their reliability and robustness.
Kena Setshogoe, MD of HPE South Africa, tells ITWeb that sending electronic equipment to space has been a time-consuming and costly process that has involved physically hardening the technology against radiation and other environmental hazards.
Because of this, Setshogoe says, computer systems may be multiple generations behind by launch time.
"Spaceborne Computer is, instead, based on commercial off-the-shelf hardware that is hardened by software, enabling the launch of the latest COTS supercomputers for use on long-range space voyages."
According to Setshogoe, the goal of this powerful collaboration is to provide interplanetary missions with the latest supercomputing capabilities that support simulation, artificial intelligence, and real-time data collection and analysis as well as reduce the latency and expense of moving data back to distant Earth.
He explains that many of the calculations needed for space research projects are still done on Earth due to the limited computing capabilities in space, which creates a challenge when transmitting data to and from space.
While this approach works for space exploration on the moon or in low Earth orbit when astronauts can be in near real-time communication with Earth, once they travel further out and closer to Mars, they will experience larger communication latencies, he adds.
Setshogoe notes this could mean it would take up to 20 minutes for communications to reach Earth and then another 20 minutes for responses to reach astronauts.
"Such a long communication lag would make any on-the-ground exploration challenging and potentially dangerous if astronauts are met with any mission-critical scenarios they're not able to solve themselves.
"A mission to Mars will require sophisticated onboard computing resources that are capable of extended periods of uptime. To meet these requirements, we need to improve technology's viability in space in order to better ensure mission success. By sending a supercomputer to space, HPE is taking the first step in that direction."
Super specs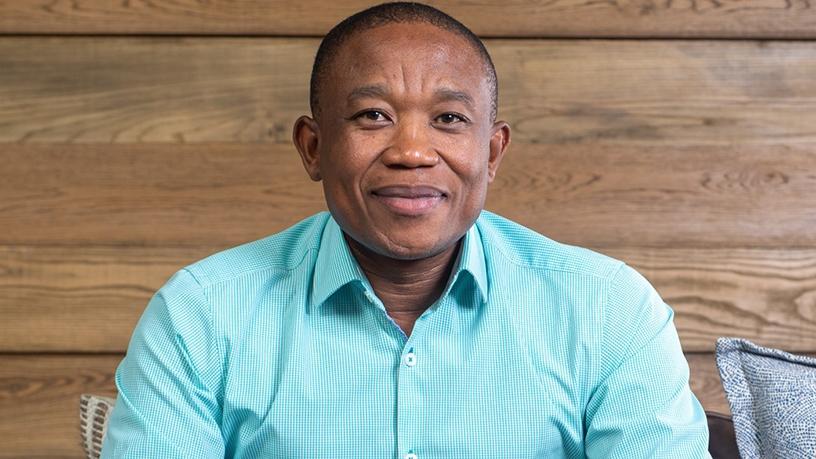 The Spaceborne Computer includes the HPE Apollo 40 class systems with a high-speed HPC interconnect running an open source Linux operating system.
"Though there are no hardware modifications to these components, we created a unique water-cooled enclosure for the hardware and developed purpose-built system software to address the environmental constraints and reliability requirements of supercomputing in space," says Setshogoe.
"Generally, in order for NASA to approve computers for space, the equipment needs to be 'ruggedised' or hardened to withstand the conditions in space. Think radiation, solar flares, subatomic particles, micrometeoroids, unstable electrical power, irregular cooling."
He notes this physical hardening takes time, money and adds weight, so HPE took a different approach to "harden" the systems with software.
"HPE's system software will manage real-time throttling of the computer systems based on current conditions and can mitigate environmentally induced errors. Even without traditional ruggedising, the system still passed at least 146 safety tests and certifications in order to be NASA-approved for space."
Upon its planned return to Earth later this year, Spaceborne will endure a battery of standard product failure analysis tests with HPE's parts suppliers.
"In the meantime, however, we can safely state that our theory of taking a COTS system (using a different approach of 'hardening' with software as opposed to physical hardening that requires more resources) to maintain consistent, high-level performance, has proven to be true," HPE concludes.
Spaceborne Computer's timeline
14 August 2017: HPE sends the Spaceborne Computer into space as part of a year-long experiment with NASA to test how well a supercomputer can operate under the harsh conditions of space.
16 August 2017: Two days after the Spaceborne Computer is launched on the SpaceX Dragon Spacecraft, the system reaches the ISS.
14 September 2017: With the system securely in place aboard the ISS, astronauts conduct the physical installation and power up the Spaceborne Computer.
14 September 2017: The high performance computing benchmark tests are performed, in which the Spaceborne Computer achieves over one trillion calculations per second, also known as one teraflop.
25 September 2017: Two weeks after the Spaceborne Computer has been powered on, it encounters its first anomaly and the software reacts as designed to restore nominal performance.
14 October 2017: During the past month, the Spaceborne Computer has been operating nominally, completing over 300 benchmark experiments and successfully dealing with two anomalies.
14 February 2018: The Spaceborne Computer had a busy first few months, passing numerous benchmarking tests and operating efficiently despite an emergency shutdown due to a false fire alarm.
14 August 2018: In the one year since its launch, the Spaceborne Computer has completed hundreds of tests to determine how the harsh conditions of space affect supercomputing technology.