Regus, Business Continuity Institute launch new partnership
The largest global workspace provider is joining forces with the world's leading institute for continuity and resilience to drive new thinking in business recovery.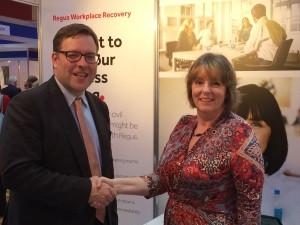 The Business Continuity Institute is delighted to announce a new partnership with Regus, the world's largest provider of workspace, which will identify new trends and global best practice in workspace recovery.
The partnership will commission primary research every year that will be shared with BCI members through forums, events and interactive media. The research will support the BCI as it continues to set the wider agenda on business resilience.
This collaboration between BCI and Regus will also extend beyond research to enable members of the Institute to gain access to Regus' services worldwide at preferred rates. BCI members will be able to receive privileged terms on their Workplace Recovery Programme so that, should a disruption make their own office uninhabitable, they can continue to operate as normal and stay productive in a fully equipped environment elsewhere. The deal will also allow members to receive free visits to Regus Business Lounges.
In addition, Regus - which become a Premium Gold Partner of the BCI as part of this partnership - will provide meeting rooms to the volunteers who make up the BCI's regional Chapters and Forums in order for them to conduct their networking, which is a key benefit of BCI membership.
David James-Brown FBCI, Chairman of the BCI, said of the new partnership: "The Institute is the global thought leader for business continuity and resilience. This research partnership with Regus will help us continue to set the agenda on issues that matter so much to business as uncertainty and volatility affects markets across the globe. At the Business Continuity Institute, we know how important it is to be prepared for a crisis, and if that crisis involves losing your facilities then there is no better place to relocate to than a Regus Workplace Recovery site. This new partnership will help make that more affordable for many more organisations. It also provides space for BCI members to meet and network at a local level through our Chapters and Forums."
Joe Sullivan, Managing Director for Workplace Recovery at Regus, commented: "We are delighted to become partners with the Business Continuity Institute. We have admired their work for many years and we hope that our partnership will support their thought-leadership on issues that are so important to the business community. As part of our partnership, we are proud that we can support the Institute's regional Chapters and Forums. We look forward to demonstrating how our facilities and people can support businesses during their time of need."
Regus currently has a network of 2 600 locations in 106 countries and encompasses 43 million square feet of the world's leading locations, offering convenient, high-quality, fully serviced spaces for people to work, whether for a few minutes or a few years.