Big hairy scary balls
How Afrihost rose from a bedroom operation to a broadband titan.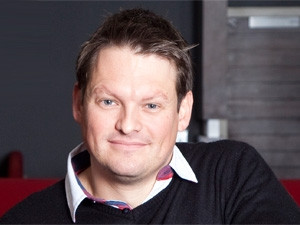 "It's not as if we were gambling everything," says Gian Visser. The CEO of Afrihost is affable and charming, which compounds the mystery of why one rarely hears more of him. His customers certainly do - Visser still writes the e-mails that announce new deals and specials. But in wider circles, he and his company aren't household names.
Yet Afrihost is easily one of the country's biggest providers of ADSL. It can also take much credit for how the local broadband market has changed, pulling it out of the dark days of paying a small ransom for a gigabyte of data.
Bedroom days
Afrihost found its genesis in a bedroom, helped along by some serious job dissatisfaction. Visser and his three partners' IT company was acquired by a larger competitor; they joined in, but within six months, they found it was all too much.
"It was just terrible," Visser recalls, explaining how management curbed a problem of missing spoons by literally curbing the number of spoons. "Within 10 days, all the spoons were gone and you had developers stirring hot coffee with their fingers." Such disregard for a workforce's happiness made no sense, a lesson that would prove invaluable. But in the meantime, it was enough motivation to leave the comforts of a well-paying corporate job. Bailing out in 2000, the small group started a jack-of-all-trades IT outfit from Visser's parental home.
No job was out of the question. "If people had asked us to clean pools, we would have cleaned pools. We needed the money!" Visser says.
The small company offered all sorts of IT services. Four years in, Web hosting was providing nearly three quarters of Afrihost's business, so this became the company's focus. But margins were thin, with cash spent on the required infrastructure.
"There was never a lot of money lying around," Visser recalls. "I wasn't even in a position to get a loan from a bank. One day, an employee told me he was applying for a bond and the bank would contact me about his salary. I thought, 'Wow! My employee can afford a house and I can't!'"
If people had asked us to clean pools, we would have cleaned pools. We needed the money!
This wouldn't last. By 2005, Afrihost had outgrown its home base and the company moved into its first offices. By 2009, it could claim to be the country's second-biggest Web host.
But soon the number-three hosting company started snapping at Afrihost's heels. Visser had a hunch why: their competition was well embedded in providing Internet connectivity. As Visser reflects on it now, the first gateway to the Internet is through a connection. People won't host Web sites until they experience Web sites.
Changing the game
So the decision was made to re-enter the connectivity market. But this time, there would be a few changes. Previously outsourced, customer care was by now an internal department. Afrihost has two core philosophies: take care of your team, and take care of your clients.
Visser eschews traditional marketing, instead placing his faith on generating word of mouth or 'braai marketing': give your customers something they will talk about around braais and other social gatherings. Getting this right required making an impression.
"We would get back into ADSL, but shake it up," he explains. So when Afrihost launched its ADSL offering in late 2009, it charged R59 per gigabyte, essentially at cost. The uptake was anything but encouraging. Clearly creating an impression would require something much bigger. While considering their options, the directors came up with a strategy: Afrihost would use its marketing budget to subsidise bandwidth costs and present a first-come-first-serve offer - R29 a gigabyte.
"A huge part of entrepreneurship is managing risk. No risk means no growth, but go too wild and you can lose it all." Afrihost's gamble had a sober rationale to back it. The offer was limited, so damage control was possible. If anything, the individual owners would lose money before the company did. And the landing of the new Seacom cable was around the corner, heralding an age of lower international bandwidth costs. There was also a benchmark: if Afrihost could buy more bandwidth than the top tier of Internet Solutions' wholesale structure, it could negotiate a better price. This translated into a peculiar risk: the marketing budget could cover 5 000 gigabytes and the ceiling was 20 000 gigabytes. Anything in between and it would mean failure. Suitably, the manoeuvre was codenamed 'Big Hairy Scary Balls'.
The impact was immediate. Bandwidth-starved users swamped the ISP, and within two days, a decision had to be made on the special's future.
"People didn't just buy a gigabyte," recalls Visser. "The industry average per user was 1.4 gigabytes. Our guys were averaging 12 gigabytes." It seemed insane, a viewpoint shared by nearly every competitor. Everyone was waiting for Afrihost to implode. Instead, this proved a boon to the company. Tapping 2010 football fever, it adopted a quaint analogy: it was the only team on the field and scoring goals without even trying.
When the wholesale ceiling broke, Afrihost negotiated a better rate. Leveraging this new bandwidth, it went in for the kill and launched a limited 2-for-1 offer, effectively selling bandwidth at less than R15 a gigabyte. The offer, launched in mid-November, was projected to see out the month. It lasted two days.
Evangelists
This was enough for another major player. In March 2010, MWeb launched its uncapped offering, a move that changed South African broadband. Seacom had landed and prices were falling. A long-awaited price war had begun. Afrihost's move was a maverick one, but when the country's biggest ISP responded, it became the status quo. As Visser puts it: "Somebody arrived with an impressive soccer team."
Afrihost's approach could have been a pyrrhic victory. Luring consumers with cheap bandwidth is risky. But maintaining a happy team and a happier customer has brought dividends.
Afrihost runs regular giveaways of prizes and specials. Recently it rolled out mystery bonuses to its capped clients, where they could win a percentage of free bandwidth based on their paid accounts. And Afrihost has a universal '1GB Free' deal, effectively allowing users to have a gigabyte of data for nothing. An old client once approached Visser about this, explaining that he uses Afrihost but doesn't spend a cent on the company. Visser loves this: what better evangelist for his brand than a happy customer who doesn't even need to pay?
"We've never been able to outgive our clients," he declares. Other initiatives include handling Telkom line matters and Afrihost's online self-service Web site, dubbed 'Clientzone'.
One could certainly conclude that this article's tone borders on the sycophantic. Indeed, this author should admit that he is a very happy client of Afrihost. And for the past two years, its customers voted it MyBroadband's ISP of the Year.
And there have been hiccups: when the entire network shut down recently for a day due to a technical error, the support staff learned that their clients have grown accustomed to high-level customer service. But a mere five years ago, one couldn't hope to get world-class support from a large ISP, let alone affordable bandwidth. Today, the South African broadband landscape has been entirely reshaped. And Afrihost played more than a small role in that.
First published in the June 2013 issue of ITWeb Brainstorm magazine.