MS builds world's fastest AI supercomputer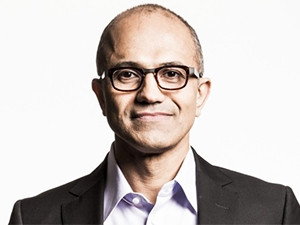 Microsoft is building the world's fastest and largest artificial intelligence (AI) supercomputer and wants to democratise AI for all.
CEO Satya Nadella outlined the company's ambition and demonstrated its cloud-based supercomputer in his opening day keynote at Microsoft's Ignite 2016 conference in Atlanta, Georgia.
"We've used technology very successfully to democratise the creation of information, and the distribution of and access to information. And now we need to turn to technology to democratise the creation of and access to intelligence."
The aim is not to use "AI to beat humans at games", Nadella said. "We are pursuing AI so that we can empower every person and every institution with tools of AI so that they can go on to solve the most pressing problems of our society and our economy."
Microsoft's strategy to achieve this includes four core pillars: agents, applications, services and infrastructure. And it's the infrastructure layer where the birth of the world's first AI supercomputer has taken place.
AI as a service
Over the past two years, Microsoft has been quietly deploying a global hyperscale architecture of field-programmable gate arrays (FPGAs). These programmable hardware boards, which can have their functionality changed on the fly, are found in Microsoft's data centres in 15 countries in five continents, and add speed, scale and efficiency to operations.
The keynote presentation featured demonstrations of the cloud-based FPGA supercomputer, pitted against a similarly cloud-based supercomputer, but one running on more traditional CPUs. Both were given neural networking tasks - image recognition and classification, and language translation - which are computationally challenging tasks.
The pinnacle of the demonstrations was the translation of the entire Wikipedia knowledge base - approximately three billion words stored in five million articles - using the majority of the global hyperscale available. This was achieved in less than a tenth of a second. Apparently, it takes two tenths of a second to blink.
Now we need to turn to technology to democratise creation and access to intelligence.

Satya Nadella
The aim, said Nadella, is to make this supercomputer facility available as services to power intelligent applications, and to run through agents, such as Microsoft's Cortana.
Nadella said Cortana is a scalable interface, an organising layer, that's capable of different input methods and is increasingly contextually aware. "It's what helps mediate the human computer interaction, your ability to get to applications and information," he said.
While Cortana is not widely available in South Africa as yet, depending on Windows 10 settings and update status, the personal digital assistant has 133 million active users each month across 116 countries, and has already been asked over 12 billion questions. The integration of Cortana across Windows 10, and other devices, will enable more intelligent interactions and automated organisation for users.
"The same approach of infusing intelligence into Cortana as the personal assistant - we can take that approach to every application," said Nadella.
Microsoft previously launched Cognitive APIs to developers at its Build event in April, and since then has had more than a billion calls to these APIs. As part of its Cortana Intelligence Suite, it has also added a Bot Framework, which includes a building block service with conversational understanding that knows how to parse natural language and have a dialogue.
And these bot interfaces will become more widespread. As Nadella said, they are "a convenient way for users to interact with your information, your data, your process". These bots are already 'live' in a number of instances, such as online customer chat assistants, and Nadella claimed that over 45 000 developers have experimented with them to date.
"[The] bot framework behind these simple conversational interfaces is [among] the most sophisticated AI capabilities to understand human language. And that means we will democratise application usage for everyone and everything. That's what's exciting about this new interface," said Nadella.
The second annual conference in Atlanta from 26 to 30 September showcases the software giant's enterprise products and services.