CSIR hosts science and technology career day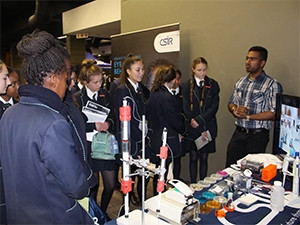 In its continued effort to promote science- and-technology-related career fields among young people, the Council for Scientific and Industrial Research (CSIR) hosted 300 pupils at a science and technology career day yesterday.
The career day, held at the CSIR International Convention Centre, is part of National Science Week, an initiative of the Department of Science and Technology which focuses on using science and technology to provide sustainable development and improved quality of life.
According to CSIR, the annual event is aimed at sharing knowledge on science and technology by providing learners with the necessary tools to make informed decisions when choosing careers in science, technology, engineering and mathematics fields. Students were exposed to different areas of science such as drug discovery, radar, nanotechnology, technology in defence and renewable energy.
A tour of the CSIR's ground-mounted photovoltaic solar facility exposed students to different sources of power, says the scientific and technology research organisation.
Tendani Tsedu, media relations manager at the CSIR, says the organisation aims to make science tangible, fun and interactive for students.
"Learners were exposed to different scientific and technological fields through various presentations, tours, exhibitions and interactive demonstrations. Among the speakers was CSIR researcher Dina Oosthuizen, who gave a motivational talk about the importance of science in changing lives, and CSIR career pipeline manager Joseph Tshikomba, who discussed career opportunities at the CSIR," he explains.
Students from Tshwane University of Technology, Pretoria Girls High, the Ukuqonda Institute and others were there to learn about career opportunities within the science and technology disciplines, adds Tsedu.
A recent report compiled by Wits University's Joburg Centre for Software Engineering revealed that SA continues to fall behind its African peers in technology adoption, which places increasing emphasis on ICT sub-sectors such as cloud, big data and analytics, mobile, security and IOT.
Adrian Schofield, the JCSE manager of Applied Research and author of the research report, says the lack of improvement in South Africa's basic education remains a major concern.
"Exposure to and familiarity with ICT for all learners is essential. Some laudable initiatives have appeared, such as the use of tablets in Gauteng schools, but they have yet to reach a sustained, critical mass for all grades of learners," notes Schofield.
According to Ronald Meeske, CEO of CTU Training Solutions, the rapid rise of new trends in SA is leading to a huge shortage of IT professionals with the correct mix of skills.
"Emerging trends such as IOT, big data, cyber security and robotics are creating roles that there are currently no designations for. The Internet, through cloud and mobile cross-platform deployment, is reinventing itself. At the same time, poor education and a lack of awareness around ICT hamper skills growth," he asserts.