Social media raises Aids awareness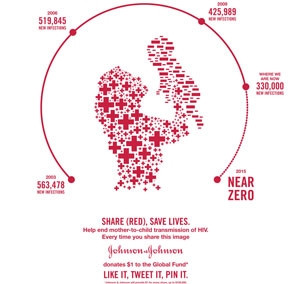 To commemorate 32 years since the discovery of HIV/Aids, (RED), RecordSetter and Mashable partnered to create a new world record using video app, Vine.
The campaign ran for 24 hours (5 June), during which the public was encouraged to post as many Vine videos as possible in an attempt to break the record for the most videos posted in a single day, in support of a single cause. The aim of the initiative was to raise awareness about the battle for an HIV/Aids-free generation, highlighting the power of social media as a tool to promote a social cause.
Vine users across the globe were asked to post videos with the hashtag #REDworldrecord. Twitter co-founder Biz Stone showed his support for the cause, as did celebrities including David Guetta and Paris Hilton, among others. A selection of the awareness videos were displayed in New York's Times Square.
As an offshoot of the world record attempt, starting today, Johnson & Johnson is working with (RED) on an Aids awareness 'SHARE' campaign. This initiative aims to raise awareness and funds to bring an end to mother-to-child transmissions of HIV/Aids. Johnson & Johnson will donate $1 every time someone 'tweets', 'likes' or 'pins' an infographic depicting the progress made in the fight against mother-to-child transmissions of HIV/Aids and the company is looking to raise $100 000 for the Global Fund to Fight Aids through social media content sharing.
"We are excited to join (RED) and their SHARE (RED), SAVE LIVES campaign. Through collective social action, we can all accelerate the end of mother-to-child transmissions of HIV," said Anu Gupta, director: corporate contributions at Johnson & Johnson.
To date, (RED) has raised nearly $210 million for the Global Fund to Fight Aids, Tuberculosis and Malaria. One hundred percent of this money has been used to provide support in Ghana, Lesotho, Rwanda, SA, Swaziland and Zambia.