WCape pledges educational Internet boost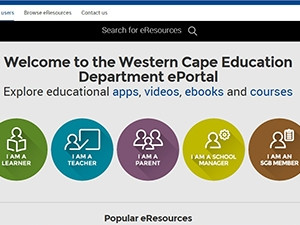 The Western Cape government (WCG) has launched its ePortal, which will give learners and teachers access to digital learning material.
The provincial government also promised free Internet access for all schools in the area by the end of next year.
The WCG says the ePortal forms part of its "Game-Changer" strategy, which aims to drive digital inclusion and provide free broadband access to schools in the province.
The ePortal allows learners and teachers to search for a range of content, such as videos, apps, e-books, courses and digital documents, and they can access it from any location.
According to the WCG, the content will be screened to ensure it is "relevant, and aligned to the national curriculum".
"We believe the ePortal can revolutionise e-learning by opening access to digital education resources like never before," says premier Helen Zille.
The ePortal will also be pre-loaded with the Western Cape Education Department's (WCED's) teaching and learning materials, study tips, guidelines on maintaining discipline, and documents on education policy.
To further support teaching and learning, the WCG says it will provide free high-speed Internet access to all Western Cape schools by the end of 2016.
The WCG says it is investing R3.8 billion over the next 10 years to bring high-speed broadband to the Western Cape, and R2 billion of the total investment will be spent on connectivity at schools.
"Our new broadband system and the digital revolution are making it much easier to respond to the individual needs of learners, teachers, parents, school managers and governors," says Zille.
"As at 31 August, service providers have completed connectivity at 275 schools. By the end of 2016, all schools in the province will have free, high-speed Internet access," she adds.
A total of 3 350 smart classrooms were established in Western Cape schools in 2014/15. The WCED also refreshed 249 computer laboratories in the same timeframe.