Staying dialled in
Telecoms players must up their games.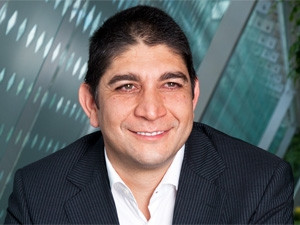 South African telecommunications operators are at a tipping point and must urgently redefine their business models to resolve the top-line erosion they are facing, as more people move away from voice to less-lucrative data solutions.
Although some time coming - this is a trend already evident internationally - the shift from voice use to data has been even more pronounced this year, and is showing clearly in the numbers. This shift, which means less revenue and lower margins, will not be reversed; but is instead deepening.
Telkom, the operator to most recently report its numbers, has seen its income stagnate over recent years. In the six months to September, operating revenue was boosted slightly, by 0.3%, to R16.2 billion, thanks to higher mobile and IT business services revenue that was partially offset by lower fixed-line voice revenue.
Vodacom, which also recently reported its interim results, showed a mere 2% gain in income from its network, with service revenue at R30 billion. This number strips out gains due to movements in the currency. The operator, SA's largest mobile player, says it will grow its capital spending to add new subscribers in a bid to reverse this trend.
CEO Shameel Joosub says accelerating its investment in the network allows it to grow capacity, while dropping prices, and return to previous levels of service revenue growth. He says it is assessing spending on a country-by-country basis, but warns that lower termination rates locally could trim what it pumps into the ground.
Likewise, MTN reported revenue growth of 1.9%, to R65.2 billion, in the first half of the year, a figure that strips out year-on-year currency shifts.
At the time, the group said it would reposition itself and move into adjacent services, while continuing to look for acquisition opportunities. It was also trimming as much fat as possible and is streamlining wherever it can, a strategy evidenced in its centralised procurement move.
Four months later, and the group's challenges - made worse by it being too slow to react to an increasingly competitive environment - remain. Themba Nyathi, MTN SA chief human resources officer, says the group is in a "challenging phase in its life cycle".
Ovum analyst Richard Hurst says the "gold rush is over and has been over for some time". IDC analyst Spiwe Chireka adds that operators have moved away from an environment in which they seek to grow their customer base, into one in which they need to keep their bases stable.
Mainstay erosion
Mobile operators will have been around for two decades next year, but the times of stratospheric growth are now over, says MD of World Wide Worx, Arthur Goldstuck. Gains in voice revenue have come to a "shuddering halt" as the sector moved into the data era, he adds.
Hurst claims that key factors behind the flattening of revenues have been the decline in the voice market, due to regulatory constraints, as well as the over-the-top (OTT) players making voice an application on data networks.
Lower voice revenue has not been offset by surges in data because, as Hurst explains, the margins from data are a lot lower than that of the voice market.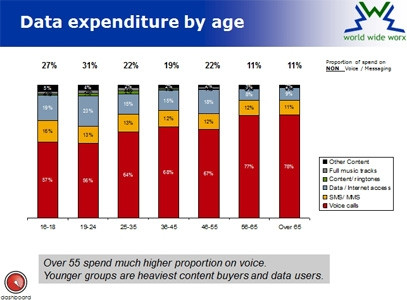 Goldstuck adds 2013 marked the first year local mobile voice revenues declined. He says data growth, at the expense of voice, has been coming for the past two years. However, this shift has now inevitably come home to roost, he says. "They're entering the data era with a model that is based on a voice economy."
Data is an increasing portion of the income operators make from their networks, eating slowly into the contribution from voice. For Vodacom, a fifth of every rand it earns comes from data. For MTN, this is at 14%, and Telkom's data is 33.7% of its revenue.
World Wide Worx's Mobility 2014 survey shows the average amount spent on voice has dropped from 77% in 2012 to 65% in late 2013. At the same time, the use of data has grown on a linear basis from 8% to 16%.
Goldstuck explains that the data explosion has affected voice income because the average user has a set budget for communication, which is why the change is a spending shift, rather than a new source of income.
Younger users are spending more on data, and those below 18 put almost half their monthly budget towards data, says Goldstuck. This change will spill over more and more in older age groups until, in five years' time, voice will account for less than 50% of spend, he adds.
However, this does not mean data will be half of operators' service income, as the balance includes aspects such as SMS and content - such as ringtones - purchased from operators, says Goldstuck.
This move is "very much" a global trend, but accelerated locally this year, explains Goldstuck. Yet, the cost of data keeps falling and the service is at lower margins; it cannot - on its own - replace the erosion of voice income, he adds.
Selling more data is not the solution, although cutting costs is essential to stay in the game, says Goldstuck.
Cutting the fat
To combat declining revenue, operators are taking costs out of their operations and adding new services onto their pipes. The solutions mooted range from expanding fibre rollout to homes and businesses - to play in the triple-play space - to adding financial services as part of their offerings.
Nyathi says: "As part of our efforts to sustain MTN's growth profile, we have undertaken a number of change initiatives across our business to capture value and optimise costs. These initiatives include scaling up our segmented data offerings, tower sharing, procurement transformation, distribution network and headcount rationalisation.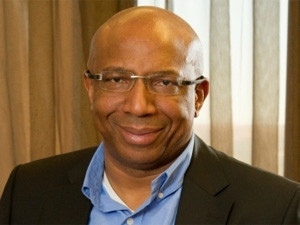 "To the extent that the impact of these industry changes merits a look at our ways of work, including staffing levels, MTN will follow appropriate provisions of the labour legislation."
Telkom is also cutting down on its spending, despite trimming its workforce by around 1 500 staff members in a R753 million voluntary retrenchment and early retirement process. It still faces a heavy cost base, and has not ruled out further retrenchments.
The operator, which has 19 316 permanent staff, will cut more expenses internally while putting pressure on its supplier base to "eat" into inflation and provide discounts, says CEO Sipho Maseko. He says if Telkom does not cut more out of its cost base, it is in "deep trouble", as its revenue growth is currently flat.
Maseko says Telkom aims to end the 2014 financial year with expenses flat year-on-year. He says several areas are being looked at, including the best option for its extensive and expensive property portfolio.
The operator is putting in place a multi-year process to cut costs on a sustainable basis, says Maseko. This measure also extends outside of the company, as Telkom will be asking suppliers to "eat" into inflation, he adds.
Telkom is asking suppliers to provide a 15% discount for the next financial year, and another 15% cut in the following year, says Maseko.
Vodacom, which started removing costs a few years ago by trimming items such as advertising spending, cut back on network operating expenses from energy and maintenance-efficient new equipment and lower leased transmission costs.
Goldstuck says there is no question operators are looking to efficiencies to protect their bottom lines. Hurst adds cost optimisation will continue to be a major issue for the network operators, but we can expect to see a floor in the near future.
Alternative sources
However, eliminating costs is not an indefinite option, and operators are looking at value-added services. Yet, plans to expand into other areas, such as Vodacom's M-Pesa offering, have yet to gain traction in the local market. Vodacom aims to relaunch the service soon in a bid to reverse its failure in the local market.
Chireka says operators have been running "dumb pipes" for too long and must now add extra services. "It's tricky, but it's now become essential." She adds, should the status quo remain, revenue gains will remain at the 2% a year mark; surviving, but not growing.
Telecoms needs to enter another wave through value add, says Chireka.
Hurst says telcos will need to be innovative and create value through aspects such as bundling services. "In particular, in these trying times where revenue growth is elusive, avoid the rush to the bottom of the pricing bundles and look at the overall value to the customer."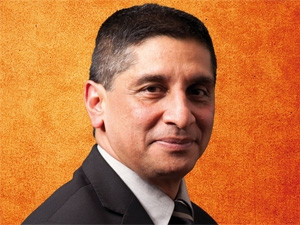 IHurst says telcos are looking to add a range of applications and services on top of their networks, which will serve to bolster revenues. An alternative is to simply become lean operators; becoming enablers of the third-party services and applications.
"In the South African market, we can expect to see something of a hybrid of these two models with operators picking their battles accordingly."
Because operators need to replace revenue, they are looking at value-added services, such as financial offerings, says Goldstuck. However, the OTT environment is skewed against operators, he says, citing WhatsApp, which has been eating into messaging income, as an example.
Operators previously were too busy being pipes to provide voice, and then data services, and are now trying to break into new areas, but content providers are not interested, says Goldstuck. "There is a major clash coming."
The only solution is for operators to innovate, which is one of the reasons they have been investing so heavily in their networks, says Goldstuck.
While Telkom is capping its spending, Vodacom is set to increase total capital spend over the next three years. MTN has also been steadily investing, while Cell C - SA's third operator - has pledged to spend R4.7 billion on doubling up base stations.
This is also why Vodacom wants to buy Neotel, he adds. If Vodacom is successful in buying what was meant to be SA's second national operator, it will gain a vast fibre network base, which will accelerate its plans to push fibre to the home and to businesses.
Telkom is also eyeing this market, pledging to make fibre to the home - and quad-play - a reality within five years. This is part of its strategy to claw back market share and make the most of its business ability, as it will also push fibre to the business, and make sure it has the right IT platform to offer services such as cloud computing and fixed-to-mobile convergence.
Telkom has unveiled plans to transform itself into an "invincible network" over the next five years, as it aims to leverage its vast network to give it an edge in a highly-competitive market. On the cards are a brand repositioning, fibre to homes and businesses, integrated entertainment, and a split into two distinct entities.
However, analysts have cautioned it only has a small timeframe to get its plans in place, as other players are eyeing the fibre space. In addition, Telkom - along with government, which has a combined 53.2% stake in the operator - must define its position before its plans will gain impetus.
Goldstuck says it needs to radically rethink its strategy, as it was caught napping when the voice economy shifted towards mobile operators at a time when its offerings were mature.
Different strokes
And then there is Neotel, which has slowly been gaining market share and growing its bottom line. The seven-year-old operator has finally become profitable before tax, and has grown its base to 175 000 consumer customers, and 3 000 businesses.
n the six months to September, Neotel's voice offerings gained 24%, its data centre grew 32%, broadband by 20%, and managed services surged 125%. Its core business, network services, grew at the slowest pace, adding 10%.
CEO and MD Sunil Joshi says Neotel is growing at between 12% and 15% faster than the fixed-line market, which is gaining 1.4% a year. He says the group is taking away market share and it now has 7.5% of the base, with an ultimate target of 15%. "Neotel is making progress in the marketplace."
Neotel grew its small enterprise and consumer base 27% year-on-year, while its business subscribers gained 24%. Joshi says although Neotel cannot claim victory yet, it is making progress and is "doing well".
The group aims to retain pre-tax profitability for the rest of the year before setting new targets next year.
Its fixed-line rival, Telkom, has again reported a fall in fixed-line connections, and its mobile business continues to bleed, although it is adding subscribers. Talks between Telkom Mobile and a third party are under way, but Maseko will not be drawn on any details.
Neotel, which seems to be bucking the trend as it keeps growing its user base and top line, is currently immune to the shift in spend, says Goldstuck. This is because it is gaining off a low base, and the bulk of its money comes from fibre, which delivers both voice and data from the same pipe.
In addition, Neotel can continue to gather up consumers because of the high rate of churn among mobile users, which equates into millions of new customers each month, says Goldstuck. He says, if Neotel cannot add customers and grow in this environment, it should shut down.
Chireka adds Neotel's low base makes any gains "impressive".
Hurst says the key to Neotel's success is its low base, and its ability to go live with a next-generation network, which allowed it to be nimble in the marketplace. He adds Neotel targeted the enterprise space, which makes its dynamics different to those of operators that have a consumer-heavy base.