Notes from Microsoft Tech Summit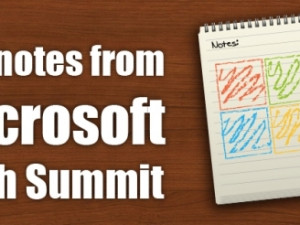 Earlier this week, Galdon Data got the opportunity to attend the Microsoft Tech Summit, in Johannesburg. The turnout was massive, with the event fully booked a couple of weeks in advance. If you missed it, or missed a specific session you were hoping to attend, you can still access content online at the following link: https://www.microsoft.com/en-za/techsummit/johannesburg.aspx.
Here are a couple of the notes Galdon Data made during the event:
1) Microsoft Azure is massive. Don't believe us? Check this out - https://www.youtube.com/watch?v=bqZrejosqWU&t=36s.
2) Get excited for Microsoft Teams. This recently launched chat-based Workspace in Office 365 was one of the most exciting things we saw at Tech Summit. Exciting because of its simplicity and because it's easy to see applications for the product in almost every business. If you have any kind of enterprise licence with Microsoft, the chances are that it's already included at no extra cost. Learn more here - https://products.office.com/en-us/microsoft-teams/group-chat-software.
3) Skype Meeting Broadcast is one of the most underrated Office 365 products. Again, something that is included in most enterprise licensing agreements, Skype Meeting Broadcast allows you to broadcast video, audio and presentations online for up to 10 000 people on almost any device. Think CEO update or new product launches. If you're scared of the network implications, chat to Galdon Data about its additional service offerings, such as Hive (https://www.hivestreaming.com/distribution-for-skype/).
4) Microsoft Enterprise Mobility + Security must be seen live in a demo. If you're struggling to see the value that Enterprise Mobility Suite offers, a live demo will change your mind. It should be an essential part of your strategy. Come chat to Galdon Data about scheduling a demo for yourself.
5) The new Skype Room Systems will transform your boardroom experience. The next generation of Skype Room Systems (formerly code-named Project Rigel) extends your Skype experience into the boardroom, making video conferencing and presentations a whole lot more user friendly. Crestron, Logitech and Polycom each have their own offering in the space. Galdon Data is working with all three, as well as Microsoft, to ensure its customers are first in line to experience these new solutions. https://mspoweruser.com/microsoft-announces-next-generation-skype-room-systems/
Contact: sales@galdon.co.za