MTN half-marathon raises funds for ICT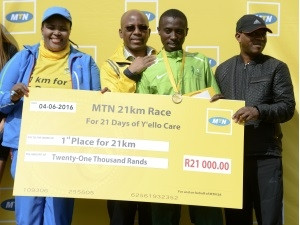 MTN SA, through its corporate social investment unit MTN SA Foundation,
held its third edition of the annual MTN 21km half-marathon, which took place at the MTN Innovation Centre in Fairlands, Johannesburg on Saturday.
According to MTN SA, this year's race, attended by more than 6 100 participants, was part of the MTN annual 21 Days of Y'ello Care 2016 campaign dedicated to raising funds for ICT in education. Themed "walk or run for ICT in education", all the proceeds raised through the race have gone towards procuring a 40-seater state-of-the-art computer laboratory at Christel House School in the Western Cape.
David Manja, who won the half marathon in 01:06:19 and was awarded R21 000, says the fact that the half-marathon was for such a worthy cause made the run and the victory much sweeter.
"It feels great to have contributed to the upliftment of education. We live in an unequal society and our contribution will go a long way towards brightening the lives of those in need as the laboratory will aid learners from low-income families who do not have access to ICT tools in the Western Cape area."
Mteto Nyati, CEO of MTN SA, says he is humbled that members of the public, media and Gauteng community made the time to pledge support to this worthy cause by strapping on their running shoes and participating in the race to raise funds for the annual programme.
Eastern Cape Sports, Recreation, Arts and Culture MEC Pemmy Majodina says, as one of the beneficiary provinces of this initiative, the department decided to come all the way from the Eastern Cape to take part in the event in order to show their gratitude.
"MTN, through its foundation, has been working with us for years in helping equip needy schools with ICT learning equipment and this is why we are embracing this programme," she says.
Nyati says MTN SA Foundation would like to thank and congratulate the more than 6 100 runners that braved the cold to participate in the event.
"We are truly encouraged by the numbers that came today. The event was oversubscribed. We plan to improve on our contingency planning in the next coming years, focusing on security and logistics," he concluded.