Lessons learnt in Absa Cape Epic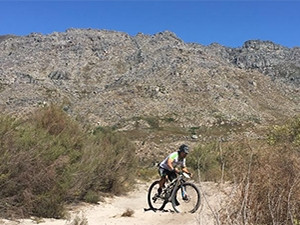 After successfully completing the Absa Cape Epic mountain-bike race over the weekend, Rob Mace from Team ITWeb powered by Dimension Data says he has learnt three things: The value of partnerships, the wisdom in approaching big problems in small increments, and the positive impact of supportive family and friends.
Back in his office in Johannesburg, the ITWeb sales director says: "I am quite an individual kind of person, who plays individual sports. I thought this race would be more of an individual event, even though longtime friend JP d'Abbadie and I were entered as a team. I didn't expect to need and rely on my partner so much. It was quite an eye-opener. JP was extremely valuable for me."
The going got tough
Mace credits D'Abbadie with getting him to the finish line of the first stage within the cut-off time, despite unexpected and often debilitating dehydration. Stage 1, a 108km-long day, happened to be very hot - hot enough for organisers to add an extra water stop.
"It was a disaster stage for me. I didn't drink enough water and got dehydration with about 30km to go. My pulse was 30 beats per minute faster than normal and I couldn't breathe in properly - it felt like I only had half my lung capacity. I was nauseous and getting very cold. We managed to make it to the last water point, saw the doc, who gave me some stuff to drink, and my pulse came down nicely. I spent 15 minutes resting, and then we were off again."
But 2km before the end, Mace had to stop again to lie down for a few minutes. "JP was incredibly good, keeping his head, giving me anti-cramp tablets and glucose to suck on, suggesting we walk for a bit. I was quite worried I was doing myself permanent damage. I collapsed at the finish line and was collected by the medics, who tested my blood to confirm dehydration and then put me on a drip."
He describes that evening as a "seemingly miraculous recovery".
"That one bag of fluid made a huge difference. I felt better immediately."
The experience also made him realise that he had had mild dehydration in previous races, even though he had been unaware of it at the time. "The doc wanted to check me the next morning and tested my kidney function. Thankfully, my kidney functions scored four out of five, and I was allowed to continue with the race, but had to drink a lot of water. Obviously, I didn't need to be told twice," he chuckles.
Slow and steady approach
In the process, Mace says he learnt the value of attacking big problems in small steps.
"I learnt that you don't do big events by thinking about the big picture, but you break them down into small pieces. You start by breaking the whole week into days, and focusing only on today, not worrying about tomorrow. Then break each day into water points. My goal was getting to water point one, water point two, water point three, and then the finish line. Only then would I allow myself to move on to thinking about the next day. Then, before you know it, you've done it."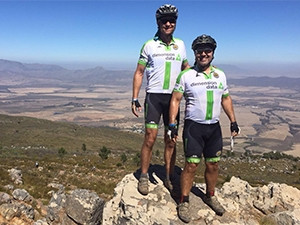 He believes that if he hadn't taken that approach, he wouldn't have completed the race. "I would have been overwhelmed by the big picture. In Stage 1, when I had that dehydration, I couldn't even make the 30km, never mind the next six days after that. So, all I tried to do at that point was get to the finish line. Confusingly, I was also quite worried about whether there was any point in trying to finish at all. I decided not to worry too much about doing permanent damage to my kidneys and to just try to get through it. At that point, with three hours and 30km to go, JP suggested we just move slowly and get to the temporary water point, where we could reassess whether it was worthwhile going on. Then the next water point and reassess. Then a little walking and a little rest. In that way, I kept going, and completed the day. If I'd thought about the next six days, I'd never have made it. Just trying to finish that little 30km piece made it possible to get through the whole race."
The going gets easier
After Stage 1, Mace found the going tough but manageable, and he and D'Abbadie completed each day with at least half an hour to spare before cut-off. "Stages 1, 2 and 3 were particularly tough, some of them with up to 8km of walking up the mountain where you couldn't ride. A lot of people took a lot of strain on those days."
"JP is a very determined individual. He trained six days a week for six months. His planning is really good, and he thinks of everything. When something isn't working, he's not scared to make changes. For instance, when he realised he was getting a tender spot on his bottom, he asked the mechanic to change the angle of his saddle immediately so that he could put pressure on a different part. I don't plan as well at all, and I don't change things as quickly. We're very different from that perspective, but I certainly learnt from it. If something isn't working, I need to change it quicker."
By Stage 4, the weather had cooled down, and the route itself provided a more enjoyable, traditional mountain-biking experience. Even Stage 5, which was officially graded the hardest, was not as tough as Mace expected it to be. "Maybe by then our bodies were adapted to full days in the saddle, plus it was a cooler day. It was long, but a fun ride and we didn't need to push our bikes at all, although we ascended a total of 2 500m."
Stage 5 was also when Mace received a personal message as he was trundling his way up the single track to the top of the mountain. "The video screen Dimension Data made available was awesome. It was used on the first stage and again on Stage 5, and it was quite surreal being at the top of the world, far away from everything, but getting an encouraging message from my son."
By the last day, Stage 7, Team ITWeb knew they were essentially done with the race. "We were just trying not to fall. On that last day the only thing that would stop us was a bike breakdown or a fall. We climbed up the last hill, took the last switchback of the day, and then it was all downhill into Meerendal. It's a beautiful section, with berms and nice ramps, and as we came in, my wife Angela and my daughter Frances were there," he says, becoming suddenly pensive. "What an amazing experience."
Support makes a big difference
Mace says that while he thought his wife, children and mother would be interested in his race, he was surprised at "the overwhelming support we had".
"Around 40 people were actively taking part in a Team ITWeb WhatsApp group and tracking Team ITWeb, many times during the day, some of them the whole day. That support was extremely encouraging and we were really motivated when we realised people were with us the whole way. Again, the Absa Cape Epic is not just an individual thing - people's support makes a big difference to how motivated you are."
Mace intends doing the Cape Epic again, but jokes that it might not be next year. "Look, I was tired of the bicycle eventually. The whole race was a very emotional experience, even though I am not a very emotional person. But it was an incredible week."
Around 25% of riders had fallen out of the race by the final day. Team ITWeb is one of three of the six teams sponsored by Dimension Data to finish the race. "We spent a lot of time with the guys in the Dimension Data stand, and they were incredibly supportive."
After the race, D'Abbadie and Mace chose not to join the big party in the race village. "We were just too tired. We checked into our hotel, had a nice dinner with some champagne, went to bed and woke up 10 hours later.
"This experience was way beyond what I expected. The journey was much more dramatic, much longer, much more interesting than I thought it would be," he says, as the pensive mood strikes again and he is back on a mountain, overcoming challenges through sheer determination alongside a dedicated teammate.