Vodacom launches m-commerce offensive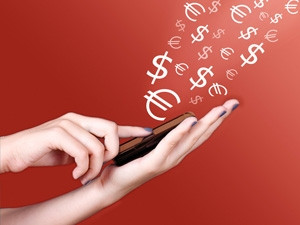 SA's largest mobile operator, Vodacom, is planning a mobile commerce (m-commerce) offensive, in the wake of dwindling revenues brought about by swelling smartphone adoption and new communication technology.
According to Vodacom's managing executive for mobile commerce, Herman Singh, m-commerce earns the operator profits equivalent to double-digit percentages in some countries, while in others it makes up almost a third of revenue and profits.
"We expect the same [kind of revenue and profits] here," says Singh, the former head of Standard Bank's Beyond Payments who took the helm of Vodacom's m-commerce division in April last year.
Singh says the market is ripe for m-commerce, which he sees as instrumental in a future converged world, "with the customer's SIM at the centre of that world".
Coupons in the cloud
The first foray into this converged world, says Singh, is vouchercloud - a geo-location-enabled app that seeks out the best local deals and displays them on users' cellphones - launched last month.
The app is available across service providers - giving Vodacom the opportunity to advertise its products directly to users on rival networks - but certain deals are exclusive to Vodacom customers.
Customers can use the app to obtain vouchers for a range of services and products from various retailers. Vouchercloud users can present the on-screen voucher to the relevant retailer to redeem a discount or special deal.
While Vodacom has yet to build the app around Windows platforms, the operator has built a USSD version that allows users of feature phones to make use of the m-commerce service.
Singh says apart from the open strategy with vouchercloud being a "great way of advertising the brand to other competitors' customers", it also has potential to bring in significant revenue through merchant and brand advertising.
Sixty-thousand till-points are connected to vouchercloud, says Singh, and the app currently has 300 brands, with about 850 offers signed up - a number he says is growing.
Advertising advantage
The combination of m-commerce and advertising has huge revenue potential, says Singh.
He notes that recently, in England, the average mobile advertising budget exceeded that of print for the first time. While SA is behind, with 15% to 20% of advertising going mobile, Singh says he expects mobile advertising to explode within the next three years.
Another, older, m-commerce advertising platform, says Singh, is the well-known USSD-based Please Call Me service. "We send out 3.6 billion Please Call Mes a year - 28 million a day - and on each one of them there is an ad. The service is free for the sender and the recipient, but a condition of use is that we attach an ad."
He says, in this way, Vodacom is becoming a publisher. "We are selling advertising on a number of our platforms [and] eventually you will see Vodacom bringing more and more inventory to market.
"Virtual and physical integration is driving m-commerce," says Singh, who cites value chain compression and industry collision as two modern-day realities that are making new mobile services possible. "There is massive industry collision happening. Is a bank really just a bank anymore? A retailer just a retailer?"
Future world
Given the proliferation of disruptive technology over the past few years, "we all recognise the future is fundamentally different from the world of the past", says Singh.
"Just look at what Facebook did to Kodak, for example. It's not just telcos taking advantage of the highly disruptive change taking place. We are seeing the same building blocks as in the '90s happening in increments now, with apps, mobile payments, an increasing level of smartphone uptake and, finally, integration with the physical."
He says going forward Vodacom wants to build a community and an ecosystem out of m-commerce platforms such as vouchercloud.
"Like with our recent 'Give a Happy' campaign, we will integrate the ability to share deals and give deals as gifts to friends. We will also, over time, direct ads and campaigns at individuals, [with customised ads suited to their likes and needs]."
Over time, says Singh, telcos will face the inevitable challenge of voice, text and data reaching maturity, although at this stage he notes that data is still seeing "phenomenal growth".
M-commerce, he says, is the fourth wave - and one the operator plans on riding into the future.
"Already, 30% of phones in SA are smartphones. Industries are being transformed by the smart device being constantly in the hand of the consumer."
He says this gives operators the opportunity to make the SIM far more valuable to the consumer. "This all lends itself to the elimination of pain and time. Our ultimate objective is to build loyalty, which in turn will reduce churn."
He says the industry can expect to see a number of new initiatives from Vodacom over the coming months.