Flagship Sony phone arrives in SA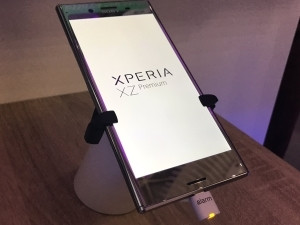 Sony Mobile Communications is launching its flagship device, the Xperia XZ Premium, in South Africa this week.
The smartphone was first introduced in February at Mobile World Congress, in Barcelona. It will hit South African retailers this month and sell at the recommended price of R14 999.
The Xperia XZ Premium was the first smartphone to incorporate the Qualcomm Snapdragon 835 chipset. At the time, the company said it was committed to creating 5G-ready devices, which is why it partnered with Qualcomm to ensure high-speed connection on its new phones.
The device also features a 5.5-inch 4K display, waterproofing, 4GB of RAM and runs Android Nougat. It has a 3 230mAh battery with QuickCharge 3.0 and a Type-C USB port.
The video camera is one of the selling points of the phone. It shoots 960 frames per second, which allows for "super-slow-motion video".
The company also introduced an in-ear wireless 'personal assistant' and a tablet with a projection touch interface earlier this year. The tablet, Xperia Touch, turns any surface into a touch-operated computer screen.
Sony hopes to bring these products to SA by the end of the year.
Xperia XZ Premium specifications:

Dimensions: 156 x 77 x 7.9mm
Weight: 195g
OS: Android Nougat
Display: 5.5-inch
Processor: Qualcomm Snapdragon 835
RAM: 4GB
Storage: 64G with a microSD support
Camera: 19MP (rear), 13MP (front)
Battery: 3230mAh
Two sides
Sony Mobile MEA VP Jason Smith says the tablet, earphones and smartphones are part of Sony's consumer-facing side of the business. He says the company is trying to create new ways of communication, where groups of people interact with technology together, instead of by themselves on their personal smartphones.
The other side of Sony Mobile Communications, says Smith, is business-to-business, where it creates vertical integrated solutions.
Smith says Sony partners with companies to create unique solutions and recently partnered with Japanese company ZNP, which creates drones. Sony and ZNP manufactured the Aerosense drone, which uses Sony's imaging technology and cloud-based analysis technology.
"These drones ? which are super-agile and are used in industries like agriculture, fishing and construction - can map out whatever you want it to and analyse it."
He says working on both the consumer and business parts of the company is a core part of Sony's strategy towards 2020.
"We are uniquely positioned now, as we have turned the company around to profitability and gone through some restructuring to build sustainability. Sony will be bringing out some interesting and exciting products in the near future."