Skills shortage in production scheduling
The SA problem of balancing scheduler's talent needs with scheduling complexity.
Defining production scheduling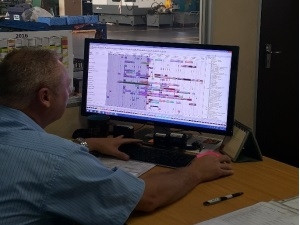 Production scheduling in simple terms is about telling the manufacturing facility when to make, with what stuff, on which equipment and in what sequence.
Production scheduling benefits
Some of the benefits that have been recorded and seen as a result of effective production scheduling include: changeover reduction, inventory reduction, scheduling effort reduction, visualisation, customer service improvement, utilisation of resources to their fullest potential, productivity improvement, capability to promise accurate deliveries, elimination of waste as a result of flow improvement, among others.
The Impact
Central to the attainment of these benefits, is the role played by the production scheduler. The production scheduler is a major variable that impacts on the production scheduling benefits, and his effect to these benefits is influenced by his scheduling skills.
The level of skills required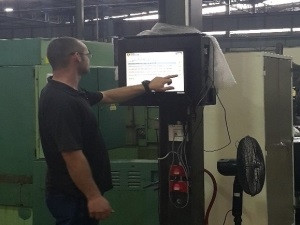 The schedule published by the production scheduler to production has already taken into consideration the business rules that would be driving the business benefits.
Entry level production scheduling rules such as "Forward and Backward Scheduling" to complex ones, such as "Scheduling around the Bottleneck", and sometimes even extremely complex ones such as "Custom-made Algorithmic Rules" would be the enablement towards the attainment of the business benefits.
All this is translated into an instruction sent to production on what, how, where and when to start the execution of the schedule.
Production personnel simply follow the schedule.
So what's wrong?
Why is there so much poor (and shortage) production scheduling skills?
* Companies think production scheduling is very simple.
* Managers think they are smarter than any production scheduling system.
* Managers do not trust the value that these systems and methodologies bring.
* Companies don't understand why they need production scheduling.
* Companies sometimes think production scheduling systems should be driven by the IT Department.
* Smaller companies employ junior staff from within the company.
* A production scheduler is generally seen as a production expeditor.
* Companies think ERP systems and production scheduling systems are the same.
* Other companies see a scheduler as a data administrator who has experience within the business and is computer literate, while some make an assumption that for as long as a scheduling tool is implemented, any employee with years of service can be appointed to this role.
* Companies who recognise the importance of a production scheduler, face a skills gap challenge.

Schedulers' Challenges
The level of skill required
The professional body for operations and supply chain developed a model that listed the following skills as requirements for a proper qualified production scheduler.
What are companies doing at the moment?
* Companies are still employing people with no production scheduling skills internally.
* Companies still think they can drive production scheduling themselves, on systems such as Microsoft Excel.
* Companies tell Ncoded Solutions, in its research, that engineers and skilled production personnel will only be employed for complex jobs, not for production scheduling.
* Companies are at this moment customising and tweaking their ERP systems to produce production schedules.
* Production Managers, with their production coordinators, schedule the shop floor themselves.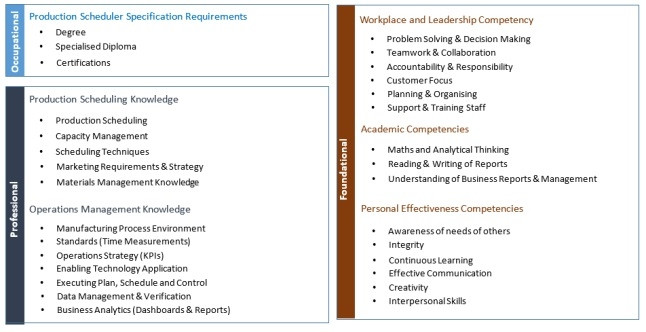 Is this an issue of general skills shortage or an issue of scheduling skills shortage?
* Most scheduling specialists are moving to high-level planning and managerial roles.
* South Africa is not keeping up with international markets when it comes to development and training. Top management is largely unaware of what these best practices are and appear to be unwilling to find out and learn, let alone implement - said Ken Titmus, former president of SAPICS.
* Employees who start to show deep understanding of supply chain (and production scheduling) get quickly moved and then replaced by production coordinators, who'd then down-scale the role that a production scheduler should play.
* In our experience, we see the level and structure of production scheduling declining with time, as companies see this role as an expense. The perception is: Production Managers should be able to handle, plan, schedule and coordinate their areas.
Deficient Skills in Scheduling
Ncoded Solutions asked employers to explain what they considered to be the most serious skill deficiency in production scheduling.
It asked them to, in their views, rate these deficiencies.
Employers feel they have good employees (for attendance, timeliness, team players, etc.)
The problem comes to how manufacturing these days require high technical scheduling skills.
Production managers, clerks, coordinators, expediters, etc. are mostly the people doing production scheduling themselves.
Companies that see the need and have ventured into Advanced Scheduling and are also trying the "quick fixes" of tweaking ERP Systems for Production Scheduling rate the skills deficiency as follows:
The recruitment of schedulers also doesn't help.
Examples of production schedulers' job ads
"Job description for production, planning, and expediting clerks: Coordinate and expedite the flow of work and materials within or between departments of an establishment according to production schedule. Duties include reviewing and distributing production, work, and shipment schedules; conferring with department supervisors to determine progress of work and completion dates; and compiling reports on progress of work, inventory levels, costs, and production problems."

"Our client is looking for an experienced and motivated Master Production Scheduler to work at their reputable company.
Requirements:
* Grade 12
* 5-8 years scheduling experience in production/manufacturing environment
* Experience on plansys/demandsys/ syspro or a similar system is required
* Computer literate."
How do we close this gap?
* Strengthen development and training.
* Implement APS - Transfer knowledge from experienced personnel to systems.
* Automate the shop floor - automation will require skilled personnel.
* Redefine the production scheduler's role - Remunerate more and include this person in decision-making - This will ensure that the scheduler understands business drivers, risks and benefits.
* Improve talent management and acquirement.
* Develop high-potential employees and create more flexibility.
* Involve customers, government, suppliers and other stakeholders.