WeChat gives away money again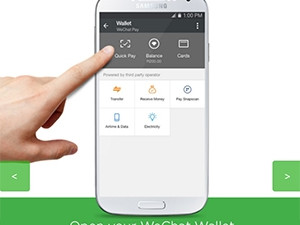 The WeChat digital wallet has been available for a year, and in an effort to get more people comfortable with using it, the app will give up to 50% back to users who pay for a meal at selected McDonald's using their digital wallets.
The promotion is similar to a campaign run by the company in June, when it gave WeChat Wallet users between 2% and 50% back when they made purchases using SnapScan.
The Chinese messaging app launched its eWallet late last year, in partnership with Standard Bank, to allow the app to stand out in the crowded messaging space and get into the mobile finance game.
The rebate will go back into the wallet and that cash can be used again at participating outlets, to buy airtime within the app, or draw out at any Standard Bank ATM.
The McDonald's promotion will run until the end of November and is only available at five restaurants in Johannesburg and Cape Town: Rosebank, Fourways, Woodmead, Tyger Manor and Century City.
Users will have to make use of WeChat Wallet Quick Pay when paying for their fast food. This option is available in the app. A QR code will be generated on the user's smartphone and the user will then hold it up to a camera at the till. Once the code is scanned, payment will be taken off the selected preloaded card.
Quick Pay is not available at any drive-through.
Each rebate amount is a randomly calculated amount of up to 50% of the purchase, up to a maximum of R100. Users will get a rebate on up to five purchases a day.
As to why WeChat is giving away money to users, WeChat head of operations Gerjo Hoffman previously said the company is not investing in TV adverts or other forms of above-the-line marketing. "Instead, we would rather spend that money on our customers and get them to actively use mobile payments."
Brett Loubser, head of WeChat Africa, said at the launch of the wallet that the new function: "Showcases the scope of the platform and provides a safe way for people to store their bank cards and make cash payments on the go in a tech-savvy way. The service is another way WeChat is merging the online and offline worlds, providing people with seamless payment integration in a single application."