Presence Technology receives 2016 WebRTC Product of the Year Award
Presence WebRTC Agent honoured for exceptional innovation.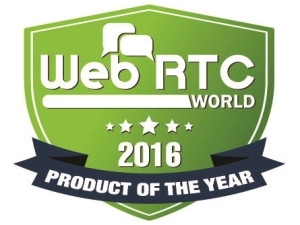 Presence Technology announced today that TMC, a global, integrated media company helping clients build communities in print, in person and online, has named Presence WebRTC Agent as a 2016 WebRTC Product of the Year Award winner.
"We are honoured to have Presence WebRTC Agent recognised for exceptional innovation," said Paul Dickinson, Executive Vice-President for Presence Technology in North America. "Presence WebRTC Agent is a cost-effective technology that can be quickly and easily deployed with zero disruption to the existing contact centre.
"Agents can handle multi-channel interactions through a simple Web browser. Presence also uses Web Real-Time Communications (WebRTC) technology to enable the all-in-one multi-channel solution to create a truly virtual contact centre environment providing real-time communications handling capabilities (voice and/or video) in any compatible Web browser, improving the customer experience."
Presence Technology has been capable of developing a completely plug-in-free Web interface for contact centre agents. The agent will not be forced to install third-part software on its computer (usually Flash or Java virtual machine).
Additionally, WebRTC usage removes the need for physical or software phones (softphones) on the agent's side, which installation and configuration usually requires knowledge of VOIP telephony protocols, like SIP. All this means contact centre agents do not require any technical background or additional training beyond the capability of using a standard Web browser. All these advantages make it even easier for businesses with the usage of telework or telecommuting, which allows the integration into the contact centre workforce of people from any demographic background, age or with mobility handicaps.
"It gives me great pleasure to honour Presence Technology as a 2016 recipient of the WebRTC Product of the Year Award for their innovative product, Presence WebRTC Agent," said Rich Tehrani, CEO, TMC. "Our judges were very impressed with the ingenuity and excellence displayed by Presence Technology in their groundbreaking work on Presence WebRTC Agent."