Outa wants to meet Ramaphosa over e-tolls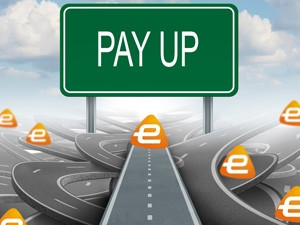 The Opposition to Urban Tolling Alliance (Outa) will write to deputy president Cyril Ramaphosa, requesting an urgent meeting to lodge its concerns at the "narrow and superficial way in which government leaders are misconstruing the widespread opposition to e-tolling".
This is in response to finance minister Nhlanhla Nene's first major budget speech in which he said e-toll tariffs would be decreased, but that government would not abandon the user-pays principle.
Nene's comments have raised the ire of e-toll opponents, who have been expecting government to scrap the e-toll system, following a review of the socio-economic impact of the system on the Gauteng province.
While Nene said during his Budget 2015 presentation that government has heard complaints about e-toll tariffs being too high and added that revised monthly ceilings would be proposed, he insisted the user-pays principle would still apply.
In response to the budget speech, Outa took issue with Nene describing Ramaphosa's approach to the Gauteng Freeway Improvement Project (GFIP) financing as "carefully balanced", while reiterating the policy of a "cost recovery from users" for "sustainable road infrastructure financing".
Ramaphosa was appointed to oversee the consultation process between the provincial government and interested parties, based on recommendations made by an e-toll review panel that was appointed by Gauteng premier David Makhura last year.
Outa points out Ramaphosa has only spoken to the Gauteng provincial government and Sanral. "He has not spoken to Outa and, to the best of our knowledge, has not spoken to Cosatu or other civil society stakeholders who have been critical of Sanral on the e-tolling matter. This can hardly be considered a 'balanced approach'."
Outa points out a partial bailout by reallocation of funds will not entice the public on board, just as was the case when former finance minister Pravin Gordhan extended R5.7 billion toward the e-toll scheme in 2012, to reduce the e-toll tariff from 40c to 30c.
"Nothing happened. In fact, a lower rate makes the scheme more irrational by increasing the percentage cost of collection. Outa, therefore, repeats its call to Gauteng freeway users to remain strong in their civil courage against Sanral's e-tolling scheme.
"We also call on deputy president Ramaphosa, minister Nene, [transport] minister Dipuo Peters and other prominent government leaders, to show political courage by meeting Outa and other critics of Sanral, to sincerely broker a 'finely balanced approach' to resolving the impasse over e-tolls."
Who benefits?
The Democratic Alliance (DA) has also criticised Nene's e-toll comments, saying the minister needs to "face the public and spell out exactly who stands to benefit by continuing to impose e-tolls on motorists".
"After the newly announced cap, e-tolls are now projected to earn R2 billion per year, based on the assumption that every motorist would pay. This, of course, is not happening.
"Of that amount, half would service the GFIP debt, while the other half would go to the collection agent," says the DA, adding it makes no sense to pay R5 to an agent to collect R10 when by using the fuel levy government could collect for free and save.
"This, of course, begs the question: why not scrap e-tolls in their entirety, ring-fence 10c a litre of the fuel levy, and service the debt?"
The DA argues government's ongoing insistence to levy e-tolls, only to lose half to a collection agent, increases perceptions that certain individuals have interests in the e-tolls contract, and are benefitting at the expense of Gauteng's citizens.
"It is now the only logical conclusion. But it is a perception and minister Nene must address it.
"It is time for minister Nene to come clean and state treasury's reasons behind the refusal to ring-fence a portion of the fuel levy to fund the GFIP, when clearly this would be the cheapest way of paying for the roads."