Curtain call: Koos Bekker
So long, but not goodbye, as Naspers CEO goes hunting.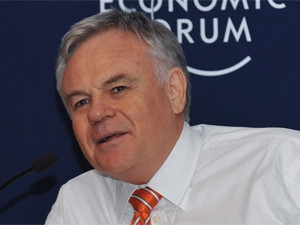 As Koos Bekker leaves Naspers to go on a global search for the group's "next big thing" at month end, he leaves behind a company that is worth more than R500 billion on the stock exchange and has grown from a printing and publishing house into the largest media entity outside of China and the US.
Yet, the 61-year-old Bekker is humble about his successes during his 17 years at the helm of Napers - which has recently seen its stock hit an all-time high of R1 310 - calling much of his achievements "luck" and "accidental". He says he has enjoyed his time with the company, adding he had a great deal of fortune along the way and benefited from technological advances that paved the way for new ventures.
Bekker joined forces with Cape Town-based Naspers in 1985. The group was established in May 1915 as a printer and publisher of newspapers and magazines, and has since expanded into Internet, e-commerce and instant messaging services across the globe.
During Bekker's time with the almost century-year-old company, it expanded into pay-television, cellular services, the Internet and e-commerce.
Bekker plans to return to the group next April, following his travels, to take over as chairman from Ton Vosloo, giving Bob van Dijk a year to settle into his role as CEO.
Even though he notes many of his moves on behalf of the Naspers group as "accidental", or as "lucky breaks", he says that whether Naspers will get another such lucky break remains to be seen. He admits that the group has had failures, and will with no doubt have some more.
Bekker himself, however, profited from these lucky breaks, although his compensation comes in stock, and not a salary. According to Forbes, he is the fifth-richest man in SA, with a combined asset value of $1.3 billion (R13.78 billion). His fortune, the magazine notes, was self-made and earned through the media sector.
Bekker is a past winner of the South African chapter of the Ernst & Young World Entrepreneur Award. He also received the Protea Award of the South African Society of Marketers and the Sunday Times Lifetime Achievement Award. He sat on the Local Organising Committee for the 2010 FIFA Soccer World Cup and was awarded an honorary doctorate in commerce by the University of Stellenbosch.
Selecting growth
Naspers has been through four growth spurts with Bekker at the helm: digital satellite TV in 1985, MTN in 1991, the Internet businesses in 1997 and its current growth unit - e-commerce - in 2008 through its acquisition of Polish group Allegro.
Under Bekker's reign, the group went from earning most of its money in SA - and from pay television - to generating the bulk of its income from international operations with its Internet unit leading the way. Naspers company operates in 130 countries and is listed on the London and Johannesburg Stock Exchange.
Now I hope to travel to places like Seoul and San Francisco, where the future is being manufactured, and to see if there are new technologies we should be trying out.

Outgoing Naspers CEO Koos Bekker
Its income-generating shift was revealed in its interim results for the period to September. The group also shows no sign of slowing its expansion, but has repeatedly warned its increased investments will weigh on income.
E-commerce, its current focus, accounted for almost R8 billion in revenue in the first half of the year, but made an operating loss of R1.8 billion as Napsers continues to plug money into its development.
Bekker says Naspers is likely to invest less in e-commerce going forward and focus on managing what the company has. It is streamlining its assets into Amazon-type services, and classifieds, he explains.
Naspers subsidiary MIH Internet Africa is restructuring its operations to focus specifically on the general e-tail businesses, such as Kalahari, which it plans to grow aggressively over the next year, according to Meloy Horn, spokesperson for the Naspers group.
The restructuring will allow more resources to be dedicated to core operations. Locally, the group is considering closing some non-core brands such as Style36 and 5 Rooms, and is consulting with staff, Horn says. Bekker adds these may be rolled into other services or shut down.
Bekker explains the second largest focus for e-commerce is in classifieds, such as its OLX offering, which it has wholly-owned since 2011. He adds that, for Naspers' next venture, the group will look in the ICT space, which is where its expertise are, and seek something in an area where it already has skills.
Naspers now has more than 277 million daily page views across various classifieds sites, a more than twofold increase year-on-year. "Engagement with users is also growing. Over the next six months we intend to step this up further," the group recently said at its interim results presentation.
Its e-tailing segment also saw top line growth in the first half as categories were broadened and some lagging flash-sales fashion units were impaired and repositioned, it said.
It is clear that - in Bekker's absence - the company will continue to keep a steady view on e-commerce. His replacement, van Dijk, is currently Naspers' most senior e-commerce chief, which, according to Vestact analyst Sasha Naryshkine "tells you the direction that Naspers is heading in".
E-commerce is still bundled into Naspers' Internet segment, which combined grew revenue 76%, to R24.9 billion. However, the step-up in development spend in this segment led to slower trading profit growth of 24%, to R3.9 billion.
Naryshkine says Bekker's resignation, after an uninterrupted 17 years at the helm of Naspers, comes at the right time. He notes that van Dijk speaks five languages and was formerly the head of eBay Germany - the second-biggest market for that company outside of the US. He holds an MSc Econometrics, from Erasmus University Rotterdam (cum laude), and an MBA from Insead, in France.
In the 1970s, Bekker obtained degrees in law and in literature at the University of Stellenbosch, where he was editor of the student newspaper. Then he completed an LLB degree at the University of the Witwatersrand, while simultaneously translating TV dramas at night.
In 1997, Bekker replaced Vosloo (current group chairman) as CEO and the group ventured into the Internet. After stumbling a few times, this is now Naspers' biggest business segment.
In view of our strong development focus on e-commerce, the board believes Bob [van Dijk] has the skills to lead us into the next phase of our growth

Naspers chairman Ton Vosloo
The past 17 years have also seen the creation of MWeb; an investment in Tencent, which operates an instant messaging platform in China; an expansion into Brazil; and then Russia through a stake in mail.ru, as well as investments in Eastern Europe. Its e-commerce stage started in 2008 when the group bought Polish entity Allegro. Naspers' investments into Tencent and Mail.ru are also paying off.
Bekker also states in the company's latest annual report that "attracting entrepreneurs is key to our group's sustainability.
"We aim to attract and retain the best talent, specifically young engineers, which are critical in our Internet operations."
Global player
Growing its operations has aided its revenue gains, which were boosted 28% in the first half to R28.8 billion. Core headline earnings per share gained 16%, to R12.48, bolstered by contributions from Naspers' investments in Tencent and Mail.ru.
However, Naspers has again said "over the next six months an acceleration of investment into growth areas will lower earnings". Development spend will top R7 billion in the full year, increasing on the R4.3 billion Naspers invested last year.
"As this investment is largely made through the income statement, it will have a dampening effect on both earnings and cash flows in the second half of the current financial year and, cumulatively, for the year as a whole."
Naspers ended the period with R16 billion in the bank, almost R6 billion more year-on-year. It is going to need these funds if Bekker's globetrotting proves successful as it seeks to find the "next big thing".
The listed company is still building up its e-commerce platforms, with a particular focus on online classifieds, although Bekker expects the pace of investment to slow. It also continues to roll out digital terrestrial television (DTT) across many cities in Africa, although it has conceded that television is no longer in a growth wave.
"In view of our strong development focus on e-commerce, the board believes Bob [van Dijk] has the skills to lead us into the next phase of our growth," says Vosloo. Van Dijk steps into the CEO position on 1 April.
Leading the way
Pay television, which Naspers "accidentally" moved into in 1985, is still a money spinner, as evidenced by its continuing subscription base gains. In the first half, it grew revenue 18%, to R17.1 billion, and added a net 560 000 subscribers to reach 7.3 million houses in 48 African countries. Naryshkine reminds stock watchers about Bekker's remarks that satellite TV is a business in decline, despite the additional subscribers across the continent time after time. The advent of DTT has seen trading profit at its second-largest revenue spinner slow, only gaining 11%, to R4.5 billion, in the first half.
Naspers is also playing in the DTT space in Africa through its GOtv brand, which is now present in eight countries with 547 000 households. However, this segment may never have come about were it not for Bekker's interest in cable television in the US, and his curiosity as to whether a satellite offering could work elsewhere in the world.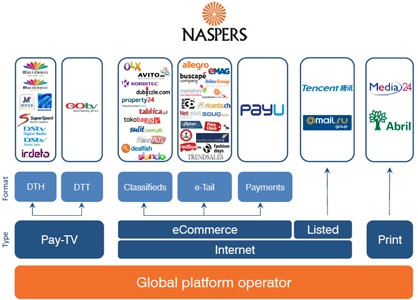 Naspers' 1985 foray, along with several other South African media companies, into M-Net, was as a consequence of a paper Bekker wrote at Columbia University.
Bekker says he went to Columbia with "ignorance and no plan" and accidentally stumbled onto the pay-television concept.
Its launch of mobile operator MTN - now a separate company worth R371 billion - came after a staff member returned from the US with a device that allowed people to make calls while in the car, he notes.
In 1991, the MultiChoice team under Bekker, together with partners, launched MTN, now Africa's largest mobile company.
Its print offerings, where Naspers started out in 1915, have seen flat revenue, but most are still profitable, because of cost reductions. The group has seen thin advertising revenues as advertisers either put their spend elsewhere, or simply cut their budgets.
Hunting
During Bekker's year away from the company he will search the globe for Naspers' next big venture in the ICT space for when e-commerce reaches maturity, with a focus on developing technologies that are attractive to the group and adjacent to its current skills.
Bekker says his time with Naspers has been "fun".
"I couldn't have wished for a more interesting life," says Bekker.
"Now I hope to travel to places like Seoul and San Francisco, where the future is being manufactured, and to see if there are new technologies we should be trying out. Plus experience a few oddball spots. When Ton steps down, I'll rejoin the board, hopefully with fresh ideas."
There are a couple of curious places Bekker will be looking into, he says. He notes Korea is interesting at the moment in terms of online games and cellular technology, while he also wants to visit Silicon Valley "for its charms".
Bekker adds New York, which was an Internet wasteland when he was studying there in the 1980s, is "coming alive" in terms of social-facing services such as news. He is also keen to visit Berlin, which is developing as the hub of the Internet in Europe, thanks to its young culture.
India is another country Bekker wants to explore because of its ambitious young people and its engineering skills.
Bekker says he will keep an open mind and travel to places where he could meet fascinating people in order to determine if there is anything of interest for Naspers to invest in. Naryshkine notes it is "amazing" that Bekker and the company are already looking beyond the current businesses.
Naryshkine says once shareholders realise the move "is the right thing to do, and their wealth creator is going hunting (in the business sense) and will return fresh and invigorated, full of fresh ideas for the company, they will be happy".