Sanral addresses erroneous invoicing
The state-owned roads agency sees a flood of complaints around incorrect amounts owed for e-tolls.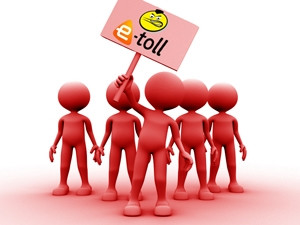 The fight to halt open-road tolling in Gauteng may be through, but the e-toll saga seems far from over, as complaints continue to flow - from both tagged and untagged e-road users.
The SA National Roads Agency (Sanral), commissioned by government to run and maintain Gauteng's e-toll system, has come under fire from motorists, who have started receiving what many perceive to be threatening SMS and e-mail messages informing them they have overdue e-toll fees.
SMS notifications to road users read along the lines of: "You have overdue e-toll fees in the amount of R XXX which have been handed over for collection to VPC [Violations Processing Centre]. Call Sanral (726 725) Ref: 1234567890."
The VPC is the debt collection division within Sanral responsible for the collection and processing of overdue e-toll transactions and registered e-toll account holders.
An example of the e-mail messages being sent from Sanral's VPC can be found on Justice Project SA's (JPSA's) recently posted E-toll Fact page. The organisation introduces the VPC's e-mail with the statement: "The e-mail messages look like this and are quite intimidating."
While Sanral says SMS and e-mail messages do not replace invoices, but "are part of normal debt collection in everyday business practices", it also makes it clear that road users do not need an invoice to make it incumbent on them to pay their outstanding e-toll fees.
In a statement sent out to clear the air on various issues raising motorists' ire, Sanral said: "Critically, [SMS and e-mail messages] are being sent out to afford the road user the opportunity to qualify for the relevant discounts if they settle the amounts within certain time periods. The possibility exists that a motorist can receive an invoice well after the period that would have entitled him/her to qualify for a discount."
Patent errors
A number of road users argue the amounts they have received via Sanral's electronic communication, however, are patently incorrect - either because they have not used Gauteng's e-roads enough to warrant the given amount, or they have not used the e-roads at all.
A case in point, IT veteran Adrian Schofield shared his experience with ITWeb. He says while he does not know whether his number plate has been cloned, "there is growing evidence that the Sanral system is generating major erroneous demands".
"I have decided not to register, nor to get an e-tag, but will endeavour to comply with the law. The reality of my circumstance is that I did use the e-highways on two separate days in the first week of December and calculated I owed about R28. I have not passed under any gantries since.
"Before Sanral took down the ability of unregistered users to access their account online [see earlier article], I saw on their Web site that I owed R30.50. Although I thought it a bit too much, I used their own online facilities to pay that amount. Subsequent to that, I received an SMS saying I owe R95.25."
Schofield says he does not intend taking the matter up with Sanral, as the roads agency urges motorists to do, through a time-consuming dispute process - involving forms, affidavits and a Commissioner of Oaths - which Sanral says takes about 10 days.
Schofield says: "Sanral will insist that I give them my details before they will deal with the complaint, effectively registering me - which I am not legally required to do. I will ignore the SMS demand. It has no legal basis."
JPSA chair Howard Dembovsky says the "intimidation tactics" used by Sanral and its VPC are "loathsome" - as well as audacious, considering the organisation is not registered with the Council for Debt Collectors.
Chairman of the Opposition to Urban Tolling Alliance, Wayne Duvenage, has similar sentiments and says a lot of people are likely to be intimidated into paying over money, which they may not really owe.
Addressing issues
In response to queries around cloned number plates, misdirected or wrong demands from the VPC and other billing issues that have come to light since e-tolling went live just over a month ago, Sanral today issued a statement: "Sanral is aware of a number of queries regarding the e-toll billing system which have arisen in the month since the system first became operational."
Spokesperson Vusi Mona says the agency takes the public's concerns seriously and is "making every effort to deal with those which are valid". He encourages motorists to report problems to Sanral's call centre.
Providing clarity regarding what it says are the most common issues raised in the last few days, Sanral says:
1. How can unregistered users establish how much they owe?
Unregistered users can see their transactions on the Sanral Web site under the "Manage my VPC Account" tab. This does not mean they are registering for e-tolls, but only that they want to view their overdue e-toll transactions, using their own security logon details. Should they not want to do this, they can view their transactions under "Check Violations" (top of manage VPC account page) by entering their South African identity number and vehicle licence plate number.
Also, they can phone our call centre or visit our customer service centres to inquire about their overdue amounts.
2. How can payment be made?
Payment can be made using the SMS reference or motorists can phone the call centre and will be given the correct VPC reference. E-mailed invoices also display the VPC account number. Payment can be made by credit card, debit order, EFT or over the counter at any Sanral customer service centre.
3. Why would a person whose vehicle has never passed under a gantry get an SMS that they owe e-toll fees?
This could be a cloned vehicle. We urge such motorists to please report the incident so Sanral can flag this as a vehicle of special interest and investigate. If you receive an SMS message and have not used the Gauteng road network, please call the call centre so we may check our records.
4. Many queries are received regarding the value of the invoices as being incorrect. Why is this so?
The tariff, as stipulated in the gazette, will be higher after the grace period of seven days. Alternate user tariffs (which are three times higher) apply to road users who are in violation. This is the value that is invoiced. However, if you pay within 30 days, you will receive a discount and a credit note for the balance.