Net 1 CEO doesn't really have a PhD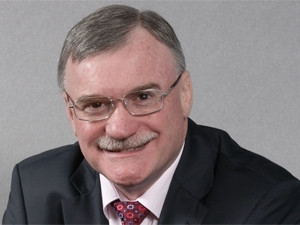 Net 1 UEPS Technologies has admitted CEO and chairman Serge Belamant was scammed into thinking he had been given an honorary PhD.
A company statement reveals Belamant, who has used the title 'Dr' in front of his name for over 10 years, was "the unfortunate victim of a scam and that the honorary degree was not legitimate".
The company decided to investigate Belamant's 'honorary PhD' in information technology and management from 'Burkes University' after allegations posted on social media questioned the validity of the degree. The review revealed both the degree and the supposed UK university it came from are fake.
"Based on this review, it appears that in early May 2003, Belamant received an e-mail from a person who appeared to be associated with 'Burkes University', stating he had been 'short-listed by the Honorary Doctorates Committee' for the conferment of an honorary doctorate degree," the company says.
"After receiving this correspondence, Belamant responded by asking for details about the selection criteria and process. Belamant received a response that discussed criteria, which appeared to him to be relevant to the awarding of an honorary degree."
Belamant then provided the supposed university with information, including proof of his memberships of professional societies, his academic records, patents he filed, his nomination for the South African chapter of the World Entrepreneur of the Year award, and his work published in information security textbooks.
He also made a donation "to what he believed was a foundation associated with Burkes University". The fake PhD was 'awarded' on 23 May 2003.
"Attempts to obtain information about Burkes University revealed that, according to the 'Higher Education Degree Datacheck' Web site, Burkes University is currently referred to as 'not a valid UK degree awarding body'. Further, there is no current Web site for Burkes University," Net 1 explains.
"The board believes Belamant followed the honorary degree award process in good faith and that at the time, Belamant did not doubt the integrity of the process or the validity of the degree."
Belamant is one of the founders of Net 1 UEPS Technologies and has been CEO since 2000 and chairman since 2003.
This is not the first time Net 1 UEPS has been embroiled in controversy. Last year, it announced its withdrawal from the tender process to distribute social grants to 15 million South Africans after a drawn-out battle over the validity of the tender from the SA Social Security Agency (SASSA).
SASSA awarded Net 1's Cash Paymaster Services division a tender valued at R10 billion over a five-year period, but following a ruling by the South African Constitutional Court, it was decided SASSA had to re-issue the tender. It was alleged Net 1 had breached SA's National Credit Act, and that the deal conducted with SASSA was "irregular".
Net 1 has a primary listing on the Nasdaq in the US and a secondary listing on the Johannesburg Stock Exchange.