Former director concerned about Altron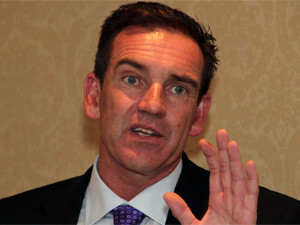 Former Altech CEO Craig Venter is "exceptionally concerned" by the huge drop in the Altron share price over the past year.
"I personally have not been operationally involved in a year, but when I left, the share price was R14 and now it is around R5. So as a shareholder and part of the family, I'm exceptionally concerned because that kind of drop in the share price, from my perspective, is something that is unacceptable," Venter told ITWeb in a recent interview.
The Venter family still owns a 64% controlling stake in Altron and Venter says "the family is fully committed to the stake". Craig Venter's brother Robert Venter is Altron CEO and their father and Altron founder, Bill Venter, still serves as non-executive chairman of Altron, Bytes and Powertech.
Altron's share was worth around R26 in May 2014. A year later, it was hovering around the R14 mark and this morning the stock was worth R5.86 a share. This means the company's market cap has also fallen over 77% in two years, now sitting at just under R2.2 billion.
Craig Venter left Altech at the end of July 2015, after 27 years of service, and also stepped down as an Altron executive director but remains "actively engaged at Altron as a shareholder".
Rob Abraham also retired as an Altron executive director and CEO of Bytes Technology Group at the end of February 2016, after 18 years of service at the Altron group.
Craig Venter believes Abraham is "one of the best IT CEOs in the country" and Abraham's departure, along with his own, left "a bit of a vacuum" at the company.
Still transitioning
For over a year, the company has been saying it is busy "transitioning from a family-managed business to an independent management structure" but has yet to announce who will lead the independent management structure.
Altron would not confirm if or when CEO Robert Venter plans to step down. The company responded to questions from ITWeb on the matter saying once again that it is transitioning from a family-managed business to an independently-managed business "in a phased approach".
"There are a number of key projects currently under way relating to the repositioning of the group as a focused, but smaller, ICT company," Altron says.
"This includes the sale of the non-core non-performing assets of the group. Once this transition is effectively completed, independent leadership will be appointed to grow off this strong and growth-oriented core ICT business."
In its most recent earnings announcement, Altron said it envisages the transition "will be finalised by the end of the 2016/2017 financial year".
However, the transition has been slow and Altron reported a loss of over R1 billion in total revenue for the year ended 29 February. Full year headline earnings per share also fell to a loss of 145c from profit of 94c posted in the prior year.
Responding to questions about the share price fall, Altron said it has reviewed its business strategy so as to focus Altron "in areas where we have the resources, competence and skills to leverage our competitive advantage".
The main focus is to be on the company's core IT and telecoms businesses, and to significantly reduce its exposure to manufacturing.
"We have begun realising the benefits of our new strategic direction with the sale of two significant assets, namely Altech Autopage and Aberdare Cables, and several smaller assets and properties within Altron Power. This has realised approximately R2 billion in cash, which will be applied to reduce debt and provide the foundation to grow the core ICT business," the company told ITWeb.