BrandsEye wins FNB business innovation award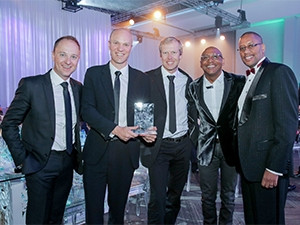 Opinion mining company BrandsEye has been announced as the winner of this year's First National Bank (FNB) business innovation awards, aimed at recognising local innovative businesses.
The two-year-old awards were held recently in partnership with Endeavor, a non-profit organisation dedicated to supporting entrepreneurs in growth markets.
FNB recognised BrandsEye founder Craig Raw and CEO Jean-Pierre Kloppers as its business innovators of the year.
The Cape Town-headquartered data mining firm uses a proprietary mix of search algorithms, crowd-sourcing and machine learning to mine data from online conversation.
BrandsEye beat a total of 550 entrants who were narrowed down to 12 finalists for the 2017 leg of the challenge. "BrandsEye will get access to the Endeavor ISP, an opportunity to engage with a network of leading international luminaries and high-impact peer groups," said Catherine Townshend, MD of Endeavor SA.
This year, companies were expected to exhibit high growth potential, demonstrate capacity to create high-value jobs and show real innovation that has the potential to change the way an industry operates locally and/or abroad.
The 11 finalists were:
Wyzetalk: A digital engagement company which has developed patented mobile, USSD and app technology to help keep people in communities and organisations connect through an all-in-one central mobile ecosystem.
SweepSouth: An online platform for booking home-cleaning services. Founder Aisha Pandor was the only female CEO to be nominated as a finalist.
ArcAqua: Developed a patented, ozone-based sanitisation technology that destroys 99.99% of all known bacteria, using tap water. Although it has application within the broader foods sector, the safe and environmentally-friendly sanitisation system is currently used on citrus, chicken, fish and other fresh produce to extend shelf-life and reduce microbial risk.
Hello Paisa: Provides a cheap, safe and legal way of remitting funds from SA to other countries through its app. The low-cost international money transfer solution has an Android app. Users can also transact via a multilingual call centre and it has built a USSD dial string which is free for the customer to dial and do a transaction.
I-Pay: An instant smart EFT payment service in SA that allows customers to make secure online payments directly into bank accounts.
IT School Innovation: Developed an online platform based on a learning model which provides students and educators with thousands of educational titles from local and international publishers. The online tool assists educational institutions, publishers and parents to order and manage e?books.
Khnology: Offers African youth and businesses the models and digital tools they need to accelerate their digital transformation in a sustainable and empowering manner. Its services run across managed services, strategic advisory and capacity solutions.
Lulalend: Applies technological development and automated application processes to provide fast online short-term business funding.
Retail Engage: Offers a second-tier retail rewards marketing solution that connects brands to a subscription base of mass-market consumers.
Sea Monster: Creates engaging content and experiences, using animation, games and immersive technologies that hope to drive education and business outcomes. It uses storytelling techniques to craft animated explainer videos and Web content that stands out, using animated character designs.
ThisIsMe: Uses advanced multipoint identity verification and enhanced due diligence to reduce fraud and ensure a seamless, on-demand FICA process for businesses and consumers.
FNB says innovation is a key driver of business growth and scalability, and it contributes in creating a better world through high-quality job creation.
"The finalists all demonstrated the talent SA has in producing high-impact entities that are not only innovative, but have scalable business models that make them globally competitive. SA's best chance at solving the unemployment epidemic is investing in scalable businesses," said Mike Vacy-Lyle, CEO of FNB Business.