Key milestones for SKA in 2014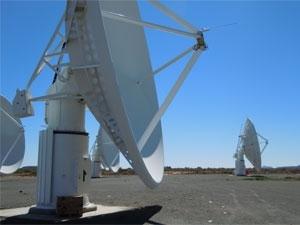 SA's Square Kilometre Array (SKA) radio telescope project has reached several milestones this year, with new manufacturing facilities opening and government recently noting its satisfaction with progress so far.
The multibillion-rand project is building up towards the end of its prototype phase - the 64-dish MeerKat. The precursor to the SKA, it will begin construction in 2016/17, with some elements operational by 2020, and full operation under way in about 2025.
Following a Cabinet meeting this week, minister in the Presidency Jeff Radebe said government was pleased with updates about progress so far. "A number of cutting-edge technology developments are being driven by SA, especially in the area of high-performance computing."
Earlier this year, project team members revealed plans to push boundaries in computing innovation as they grappled with finding solutions to deal with the massive amounts of data that will be pouring in, with up to 40Gb every second per dish.
Also under way, according to Radebe, are discussions regarding the hosting agreement and funding model for the SKA as well as the procurement policy. He noted negotiations continue on the establishment of an inter-governmental treaty organisation.
"Cabinet approved a joint task team between the ministers of science and technology and higher education and training to identify the required human resources as well as to ensure that academic and other research institutions are aligned to the development and needs of the MeerKat, SKA and similar projects," he said.
Taking shape
SKA South Africa (SKA SA) and Stratosat recently opened a panel manufacturing facility in Kempton Park in partnership with the Department of Science and Technology (DST), US-based General Dynamics Satcom Technologies and various South African suppliers.
As part of the development, Stratosat will design, build and install all 64 telescopes for the MeerKat project, and the new facility aims to fulfil requirements that at least 75% of the components be manufactured locally. The facility will also manufacture reflector panels for the MeerKat antenna positioners for SKA SA.
The reflector panels for the first two MeerKat dishes were manufactured at General Dynamics' facility in Estonia, after which the fabrication was moved to SA. According to SKA SA, the appropriate training and knowledge transfer is under way and panels for the third antenna are being manufactured in Kempton Park.
Dr Bernie Fanaroff, director of SKA SA, says the new facility is a "good example of intellectual property transfer and creation of local job opportunities associated with the MeerKat project".
More projects
In a bid to minimise radio frequency interference in areas surrounding the SKA telescopes, Vox Telecom was recently announced as a partner that will deploy Internet access and voice telephony to farmers in the Northern Cape.
As part of the deal, customers get free satellite equipment installation with connection speeds of 2Mbps download and 512Kbps upload. They will also get 2GB of data for R119 a month with an option to top up, while phone lines will cost R185 a month.
Meanwhile, Germany-based Max Planck Institute for Radio Astronomy has announced plans to invest EUR11 million (R151 million) to build and install radio receivers on the MeerKat radio telescope project.
In March, the DST unveiled the first of 64 antennas that will make up MeerKat, along with the project's Karoo Array Processor building - a data centre for the telescope built in an underground bunker on the SKA site.